Apartment Marcel
Chamonix, France
Summary
| | |
| --- | --- |
| Property: | Apartment |
| Sleeps: | 2 / 3 |
| Bedrooms: | 1 |
| Bathrooms: | 1 |
| Location: | Chamonix |
| Rating: | |
| Price Range: | €400 - €1000 / week |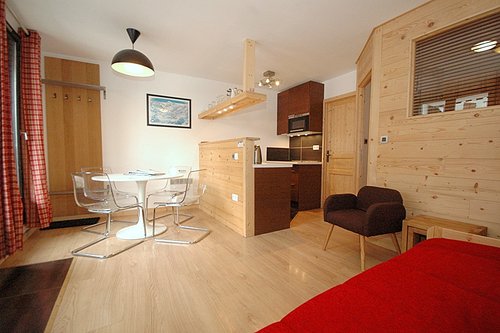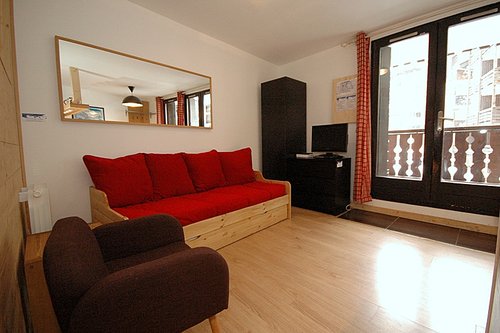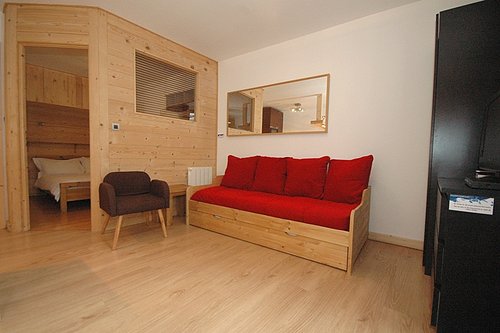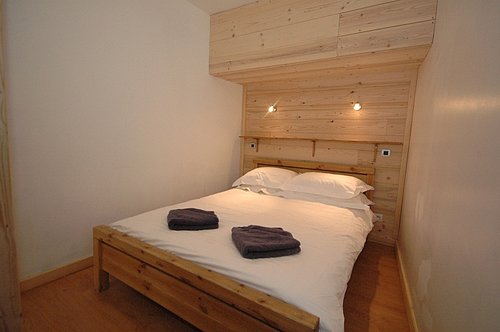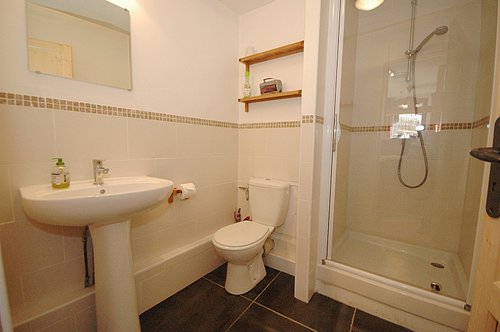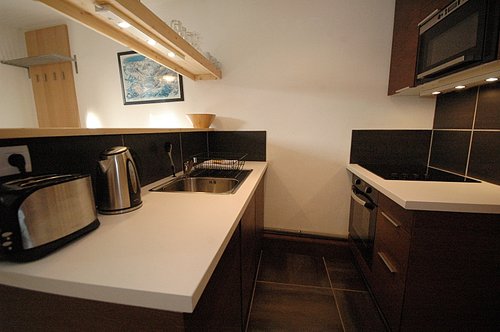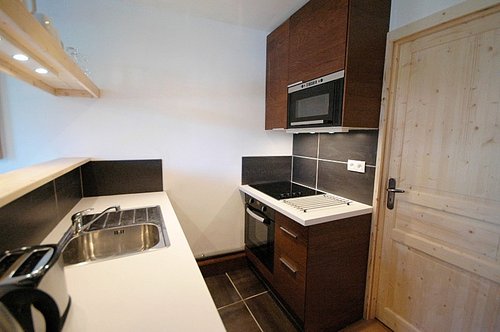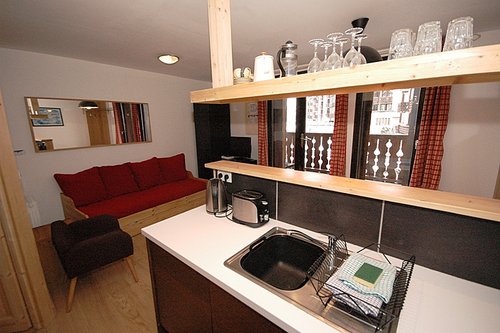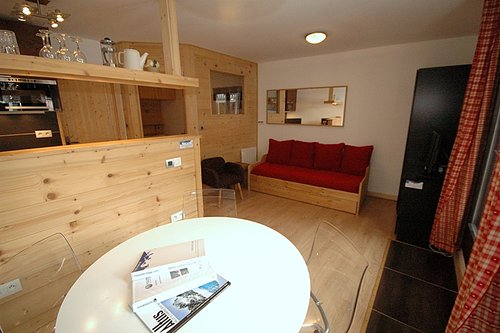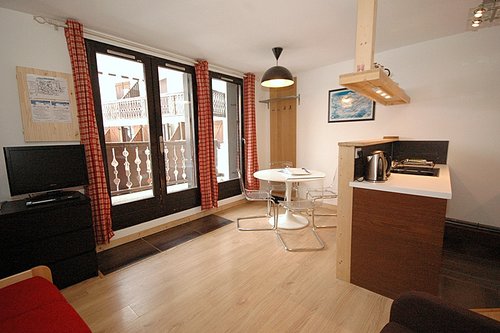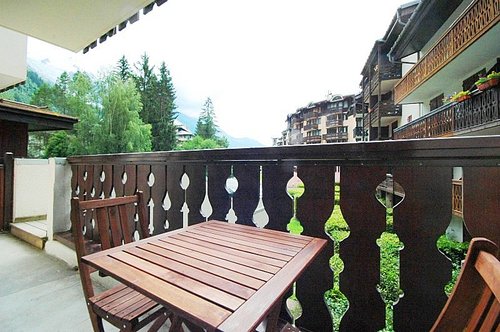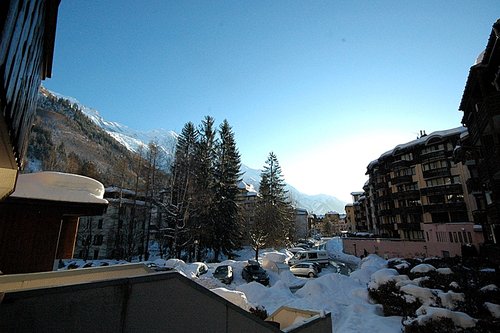 Marcel is a 1 bedroom apartment which has undergone a complete refurbishment and provides stylish and comfortable accommodation for up to 3 people. It opens into the open plan living area which has a kitchen (with washing machine) and a dining table. There is a sofa which has a pull-out single bed giving flexibility in sleeping arrangements. Off this main room is the shower room with WC and the bedroom with double bed. WIFI is provided.

The apartment has its own entrance onto a good sized south-west balcony with table and chairs. It looks towards gardens and some exterior parking with great views up towards Mont Blanc.

In addition, there is access to shared underground parking and a good sized cellar within the building.

Marcel provides a good option for 2 people or 3 on a budget.
Features

Central location
Balcony
Covered Parking
Mont Blanc view
Short stays possible
Facilities

French TV channels
Wifi internet access
DVD player
Microwave
Oven / Grill
Hob
Fridge
Washing machine
Outside furniture
This apartment in Chamonix is located in the "Sud" (south) part of town, just a few minutes walk from the town centre and very conveniently located for all Chamonix attractions and amenities. Chamonix Sud centres around a sunny pedestrianised square where you will find a small collection of bars, restaurants and shops. If you are looking for more nightlife, apres-ski or dining options then there are lots of bars and restaurants in Chamonix town centre, within easy walking distance. The Aiguille du Midi cable car station is a stone's throw away; one of the most popular sightseeing attractions in France, it gives access to the famous Vallee Blanche off-piste ski run in winter and countless alpine hiking and climbing routes in summer. Train and bus stations are close by, giving easy access to all the Chamonix ski areas. The nearest pisted ski slopes are at Le Brevent, just a few minutes bus ride away. Public transport in Chamonix is free of charge with your "carte d'hôte" guest card, given to you when you check in to your accommodation.


Winter 2017/2018 season
- all prices quoted in
EUROS
2017
2018
M
T
W
T
F
S
S
M
T
W
T
F
S
S
M
T
W
T
F
S
S
M
T
W
T
F
S
S
M
T
W
T
F
S
S
M
T
Nov 17
X
X
X
X
X
X
Dec 17
X
X
X
X
X
X
X
X
X
X
X
X
X
X
X
X
X
X
X
X
X
X
X
X
X
X
X
X
X
X
X
Jan 18
X
X
X
X
X
X
X
X
X
X
X
X
X
X
X
X
X
X
X
X
X
X
X
X
X
X
X
X
X
X
X
Feb 18
X
X
X
X
X
X
X
X
X
X
X
X
X
X
X
X
X
X
X
X
X
X
X
X
X
X
X
X
Mar 18
X
X
X
X
X
X
X
X
X
X
X
X
X
X
X
X
X
X
X
X
X
X
X
X
X
X
X
X
X
X
X
Apr 18
X
X
X
X
X
X
X
X
X
X
X
X
X
X
X
X
X
X
X
X
X
X
X
X
X
X
X
28
29
30
May 18
1
2
3
4
| | | | | | | | | | | | |
| --- | --- | --- | --- | --- | --- | --- | --- | --- | --- | --- | --- |
| 1000 / week | | 800 / week | | 700 / week | | 600 / week | | 500 / week | | 400 / week | |
| | | | | | | | | | | | |
Winter 2017/2018 season
- all prices quoted in
EUROS
2017
2018
M
T
W
T
F
S
S
M
T
W
T
F
S
S
M
T
W
T
F
S
S
M
T
W
T
F
S
S
M
T
W
T
F
S
S
M
T
Nov 17
X
X
X
X
X
X
Dec 17
X
X
X
X
X
X
X
X
X
X
X
X
X
X
X
X
X
X
X
X
X
X
X
X
X
X
X
X
X
X
X
Jan 18
X
X
X
X
X
X
X
X
X
X
X
X
X
X
X
X
X
X
X
X
X
X
X
X
X
X
X
X
X
X
X
Feb 18
X
X
X
X
X
X
X
X
X
X
X
X
X
X
X
X
X
X
X
X
X
X
X
X
X
X
X
X
Mar 18
X
X
X
X
X
X
X
X
X
X
X
X
X
X
X
X
X
X
X
X
X
X
X
X
X
X
X
X
X
X
X
Apr 18
X
X
X
X
X
X
X
X
X
X
X
X
X
X
X
X
X
X
X
X
X
X
X
X
X
X
X
28
29
30
May 18
1
2
3
4
| | | | | | | | | | | | |
| --- | --- | --- | --- | --- | --- | --- | --- | --- | --- | --- | --- |
| 1000 / week | | 800 / week | | 700 / week | | 600 / week | | 500 / week | | 400 / week | |
| | | | | | | | | | | | |