Fermes du Montenvers B3
Chamonix, France
Summary
| | |
| --- | --- |
| Property: | Apartment |
| Sleeps: | 5 |
| Bedrooms: | 3 |
| Bathrooms: | 2 |
| Location: | Chamonix |
| Rating: | |
| Price Range: | €500 - €1650 / week |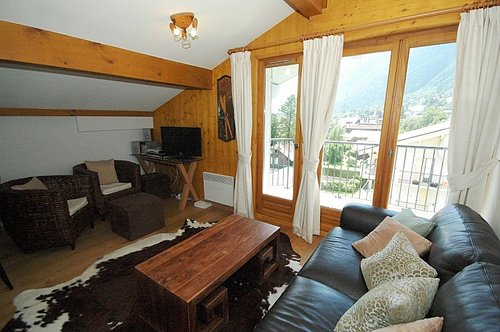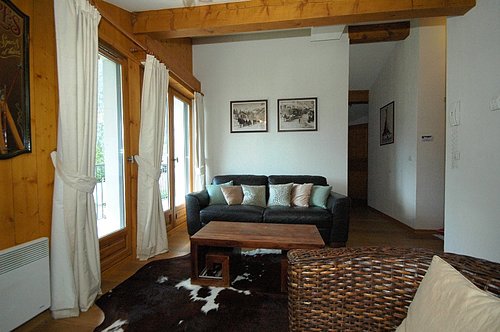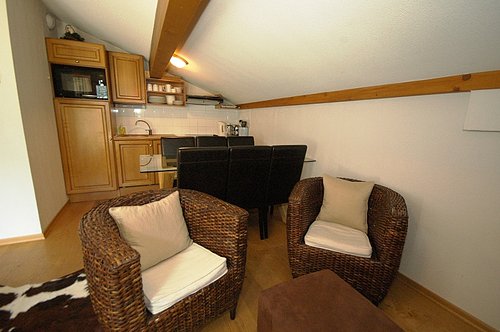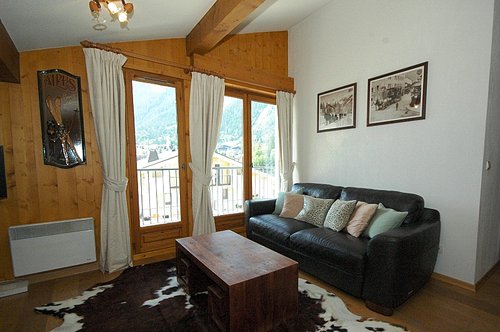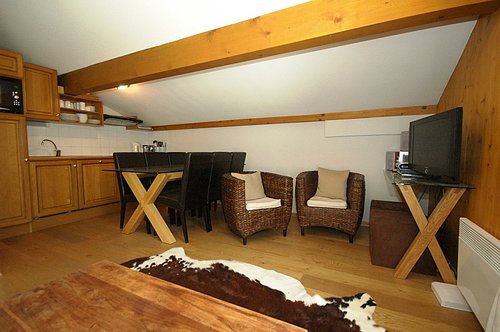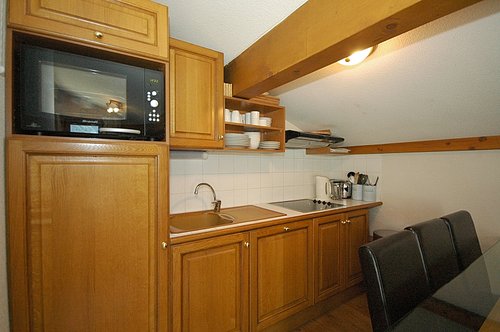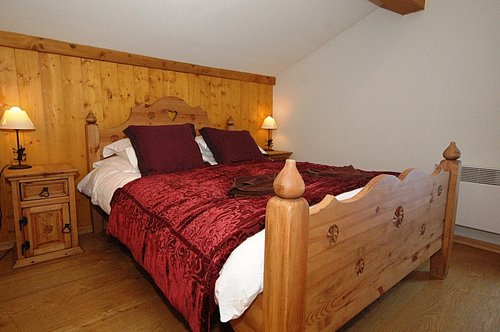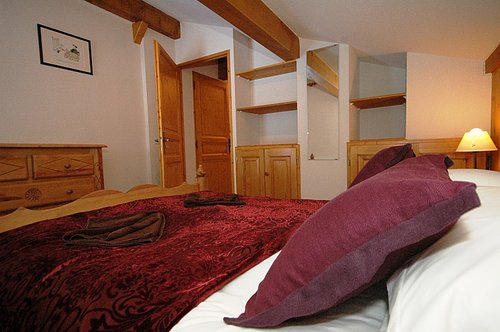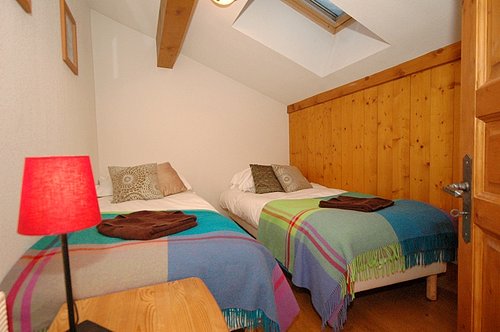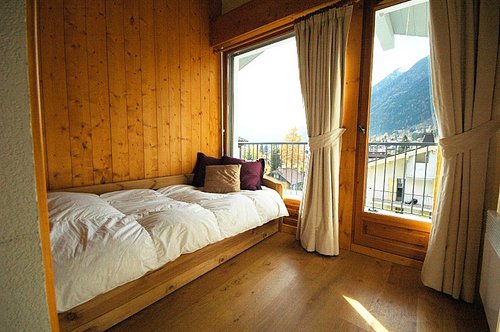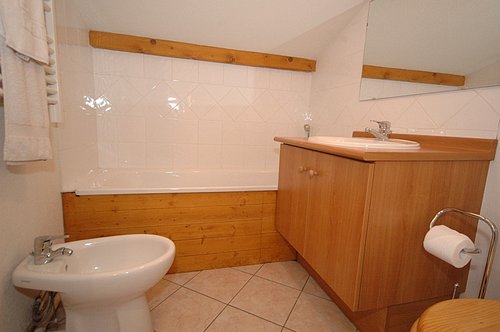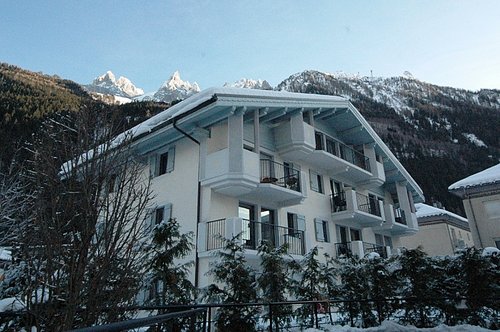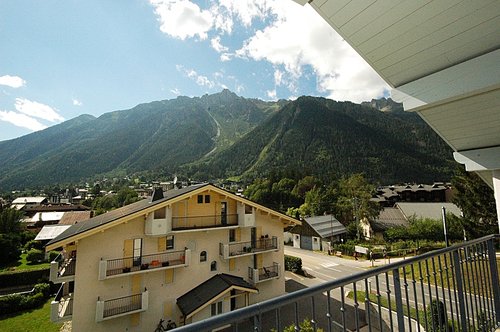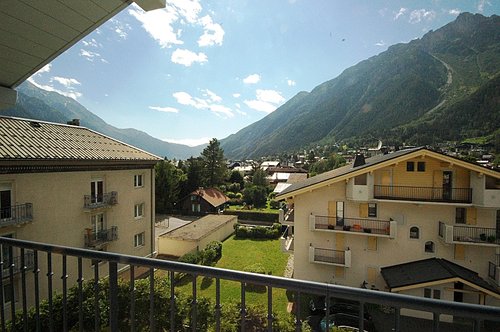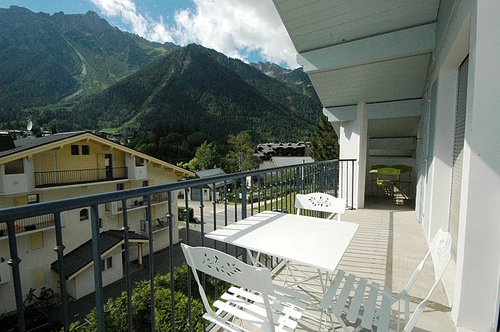 Montenvers B3 is situated on the entire 3rd floor of the building. Internally, it has a modern style with contemporary furniture and wooden flooring in the open plan living area and bedrooms. It opens into a hall area with storage cupboards and into the living area which has a fitted kitchen, a dining table and comfortable seating. Satellite TV provides a range of UK channels and there is WIFI. Glass doors open onto a large west facing balcony offering views along the valley and capturing the afternoon sun. A hallway leads to a single bedroom, a twin bedroom, a master double bedroom, a bathroom and a shower room, both with WC. The master bedroom also has a balcony on the other side of the building with views up to the Aiguille du Midi and Les Jorasses.

A ski cellar provides storage for equipment and there is secure underground parking with an allocated place for the apartment's use.

Montenvers B3 is in a quiet position and yet close to all Chamonix's facilities making it a good choice for groups who have some members heading into the mountains and others staying closer to town.

Features

Central location
Balcony
Covered Parking
Facilities

UK TV (Freeview)
Wifi internet access
DVD player
Microwave
Hob
Fridge
Dishwasher
Washing machine
Ferme du Montenvers B3 is situated in a tranquil area of Chamonix just off Rue Helbronner to the south of the town centre.

The apartment is 5 minutes' walk from the town square, Place Balmat, with all its shops, bars and restaurants of Chamonix town centre. It is also just 350 metres from the shops and facilities of Chamonix Sud. The nearest supermarkets are Spar (main season only) in the square of Chamonix Sud and Casino on Avenue Michel Croz near the main train station.

For access to the slopes, the apartment is located 300 metres from a bus stop. The nearest ski area is Brévent, 2 minutes by bus. The Aiguille du Midi cable car for the Vallée Blanche is 500m from the apartment.


Winter 2013/2014 season
- all prices quoted in
EUROS
2013
2014
M
T
W
T
F
S
S
M
T
W
T
F
S
S
M
T
W
T
F
S
S
M
T
W
T
F
S
S
M
T
W
T
F
S
S
M
T
Nov 13
X
Dec 13
X
X
X
X
X
X
X
X
X
X
X
X
X
14
15
16
17
18
19
20
X
X
X
X
X
X
X
X
X
X
X
Jan 14
X
X
X
4
5
6
7
X
X
X
X
12
13
14
15
16
17
18
19
20
21
22
23
24
X
X
X
X
X
X
X
Feb 14
1
2
3
4
5
6
7
8
9
10
11
12
13
14
X
X
X
X
X
X
X
X
X
X
X
X
X
X
Mar 14
1
2
3
4
5
6
7
8
9
10
11
12
13
14
15
16
17
18
19
20
21
22
23
24
25
26
27
28
29
30
31
Apr 14
1
2
3
4
5
6
7
8
9
10
11
12
13
14
15
16
17
18
19
20
21
22
23
24
25
26
27
28
29
30
May 14
1
2
3
4
5
6
7
8
9
| | | | | | | | | | | | |
| --- | --- | --- | --- | --- | --- | --- | --- | --- | --- | --- | --- |
| 1650 / week | | 1500 / week | | 1350 / week | | 1200 / week | | 1000 / week | | 850 / week | |
| | | | | | | | | | | | |
Summer 2014 season
- all prices quoted in
EUROS
| 2014 | M | T | W | T | F | S | S | M | T | W | T | F | S | S | M | T | W | T | F | S | S | M | T | W | T | F | S | S | M | T | W | T | F | S | S | M | T |
| --- | --- | --- | --- | --- | --- | --- | --- | --- | --- | --- | --- | --- | --- | --- | --- | --- | --- | --- | --- | --- | --- | --- | --- | --- | --- | --- | --- | --- | --- | --- | --- | --- | --- | --- | --- | --- | --- |
| May 14 | | | | | | | | | | | | | 10 | 11 | 12 | 13 | 14 | 15 | 16 | 17 | 18 | 19 | 20 | 21 | 22 | 23 | 24 | 25 | 26 | 27 | 28 | 29 | 30 | 31 | | | |
| Jun 14 | | | | | | | 1 | 2 | 3 | 4 | 5 | 6 | 7 | 8 | 9 | 10 | 11 | 12 | 13 | 14 | 15 | 16 | 17 | 18 | 19 | 20 | 21 | 22 | 23 | 24 | 25 | 26 | 27 | 28 | 29 | 30 | |
| Jul 14 | | 1 | 2 | 3 | 4 | X | X | X | X | X | X | X | X | X | X | X | X | X | X | 19 | 20 | 21 | 22 | 23 | 24 | 25 | 26 | 27 | 28 | 29 | 30 | 31 | | | | | |
| Aug 14 | | | | | 1 | 2 | 3 | 4 | 5 | 6 | 7 | 8 | 9 | 10 | 11 | 12 | 13 | 14 | 15 | 16 | 17 | 18 | 19 | 20 | 21 | 22 | 23 | 24 | 25 | 26 | 27 | 28 | 29 | 30 | 31 | | |
| Sep 14 | 1 | 2 | 3 | 4 | 5 | 6 | 7 | 8 | 9 | 10 | 11 | 12 | 13 | 14 | 15 | 16 | 17 | 18 | 19 | 20 | 21 | 22 | 23 | 24 | 25 | 26 | 27 | 28 | 29 | 30 | | | | | | | |
| Oct 14 | | | 1 | 2 | 3 | 4 | 5 | 6 | 7 | 8 | 9 | 10 | 11 | 12 | 13 | 14 | 15 | 16 | 17 | 18 | 19 | 20 | 21 | 22 | 23 | 24 | 25 | 26 | 27 | 28 | 29 | 30 | 31 | | | | |
| Nov 14 | | | | | | 1 | 2 | 3 | 4 | 5 | 6 | 7 | 8 | 9 | 10 | 11 | 12 | 13 | 14 | 15 | 16 | 17 | 18 | 19 | 20 | 21 | 22 | 23 | 24 | 25 | 26 | 27 | 28 | | | | |
| | | | | | | | |
| --- | --- | --- | --- | --- | --- | --- | --- |
| 800 / week | | 650 / week | | 550 / week | | 500 / week | |
| | | | | | | | |
What's included
Exclusive use of the property and its facilities
All linen including towels
End of stay cleaning
Local Tourist Taxes

What's not included
Travel to and from Chamonix
Airport transfers can be arranged

NB
Prices are for self-catered accommodation (catering can be arranged)
Bookings are taken from Saturday to Saturday although there may be flexibility in low season
Dates shown indicate date of arrival (after 4pm), departure before 10am
Arrivals after 7.30pm incur a €20 surcharge, after 11.30pm €50
Fee of 0.8% applicable to all card payments
Pets are not allowed at this property
Winter 2013/2014 season
- all prices quoted in
EUROS
2013
2014
M
T
W
T
F
S
S
M
T
W
T
F
S
S
M
T
W
T
F
S
S
M
T
W
T
F
S
S
M
T
W
T
F
S
S
M
T
Nov 13
X
Dec 13
X
X
X
X
X
X
X
X
X
X
X
X
X
14
15
16
17
18
19
20
X
X
X
X
X
X
X
X
X
X
X
Jan 14
X
X
X
4
5
6
7
X
X
X
X
12
13
14
15
16
17
18
19
20
21
22
23
24
X
X
X
X
X
X
X
Feb 14
1
2
3
4
5
6
7
8
9
10
11
12
13
14
X
X
X
X
X
X
X
X
X
X
X
X
X
X
Mar 14
1
2
3
4
5
6
7
8
9
10
11
12
13
14
15
16
17
18
19
20
21
22
23
24
25
26
27
28
29
30
31
Apr 14
1
2
3
4
5
6
7
8
9
10
11
12
13
14
15
16
17
18
19
20
21
22
23
24
25
26
27
28
29
30
May 14
1
2
3
4
5
6
7
8
9
| | | | | | | | | | | | |
| --- | --- | --- | --- | --- | --- | --- | --- | --- | --- | --- | --- |
| 1650 / week | | 1500 / week | | 1350 / week | | 1200 / week | | 1000 / week | | 850 / week | |
| | | | | | | | | | | | |
Summer 2014 season
- all prices quoted in
EUROS
| 2014 | M | T | W | T | F | S | S | M | T | W | T | F | S | S | M | T | W | T | F | S | S | M | T | W | T | F | S | S | M | T | W | T | F | S | S | M | T |
| --- | --- | --- | --- | --- | --- | --- | --- | --- | --- | --- | --- | --- | --- | --- | --- | --- | --- | --- | --- | --- | --- | --- | --- | --- | --- | --- | --- | --- | --- | --- | --- | --- | --- | --- | --- | --- | --- |
| May 14 | | | | | | | | | | | | | 10 | 11 | 12 | 13 | 14 | 15 | 16 | 17 | 18 | 19 | 20 | 21 | 22 | 23 | 24 | 25 | 26 | 27 | 28 | 29 | 30 | 31 | | | |
| Jun 14 | | | | | | | 1 | 2 | 3 | 4 | 5 | 6 | 7 | 8 | 9 | 10 | 11 | 12 | 13 | 14 | 15 | 16 | 17 | 18 | 19 | 20 | 21 | 22 | 23 | 24 | 25 | 26 | 27 | 28 | 29 | 30 | |
| Jul 14 | | 1 | 2 | 3 | 4 | X | X | X | X | X | X | X | X | X | X | X | X | X | X | 19 | 20 | 21 | 22 | 23 | 24 | 25 | 26 | 27 | 28 | 29 | 30 | 31 | | | | | |
| Aug 14 | | | | | 1 | 2 | 3 | 4 | 5 | 6 | 7 | 8 | 9 | 10 | 11 | 12 | 13 | 14 | 15 | 16 | 17 | 18 | 19 | 20 | 21 | 22 | 23 | 24 | 25 | 26 | 27 | 28 | 29 | 30 | 31 | | |
| Sep 14 | 1 | 2 | 3 | 4 | 5 | 6 | 7 | 8 | 9 | 10 | 11 | 12 | 13 | 14 | 15 | 16 | 17 | 18 | 19 | 20 | 21 | 22 | 23 | 24 | 25 | 26 | 27 | 28 | 29 | 30 | | | | | | | |
| Oct 14 | | | 1 | 2 | 3 | 4 | 5 | 6 | 7 | 8 | 9 | 10 | 11 | 12 | 13 | 14 | 15 | 16 | 17 | 18 | 19 | 20 | 21 | 22 | 23 | 24 | 25 | 26 | 27 | 28 | 29 | 30 | 31 | | | | |
| Nov 14 | | | | | | 1 | 2 | 3 | 4 | 5 | 6 | 7 | 8 | 9 | 10 | 11 | 12 | 13 | 14 | 15 | 16 | 17 | 18 | 19 | 20 | 21 | 22 | 23 | 24 | 25 | 26 | 27 | 28 | | | | |
| | | | | | | | |
| --- | --- | --- | --- | --- | --- | --- | --- |
| 800 / week | | 650 / week | | 550 / week | | 500 / week | |
| | | | | | | | |
What's included
Exclusive use of the property and its facilities
All linen including towels
End of stay cleaning
Local Tourist Taxes

What's not included
Travel to and from Chamonix
Airport transfers can be arranged

NB
Prices are for self-catered accommodation (catering can be arranged)
Bookings are taken from Saturday to Saturday although there may be flexibility in low season
Dates shown indicate date of arrival (after 4pm), departure before 10am
Arrivals after 7.30pm incur a €20 surcharge, after 11.30pm €50
Fee of 0.8% applicable to all card payments
Pets are not allowed at this property