Chalet les Favrands
Chamonix, France
Summary
| | |
| --- | --- |
| Property: | Chalet |
| Sleeps: | 8 / 12 |
| Bedrooms: | 5 |
| Bathrooms: | 4 |
| Location: | Chamonix |
| Rating: | |
| Price Range: | €1100 - €4750 / week |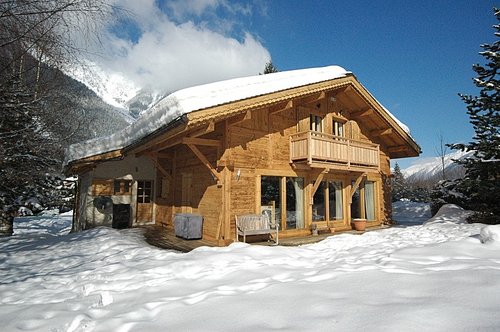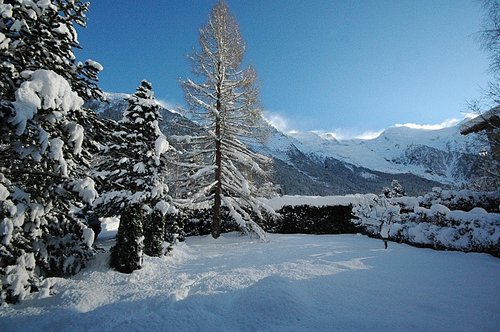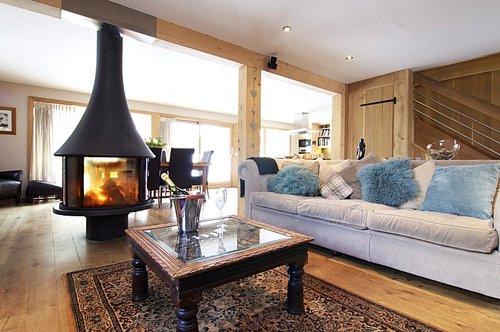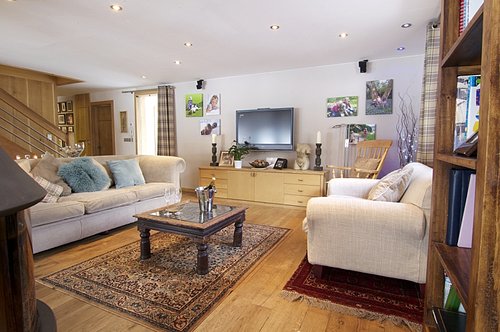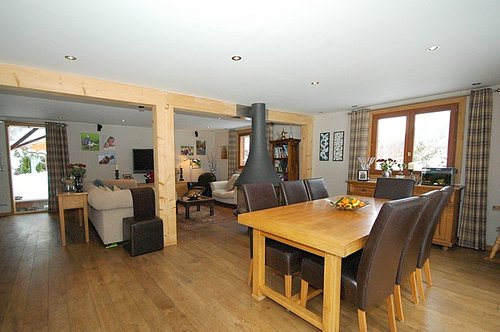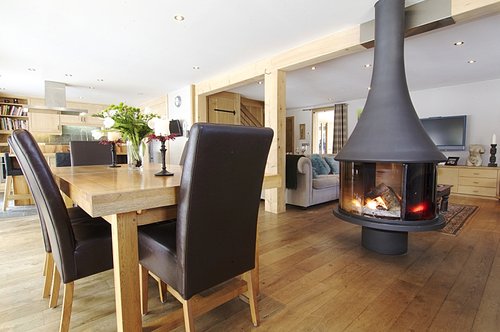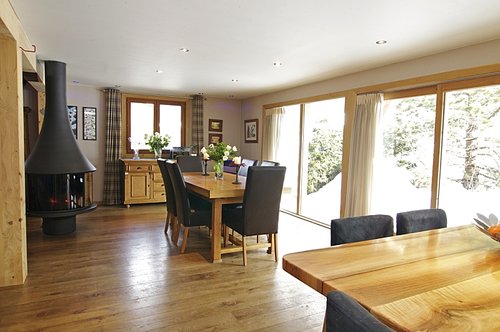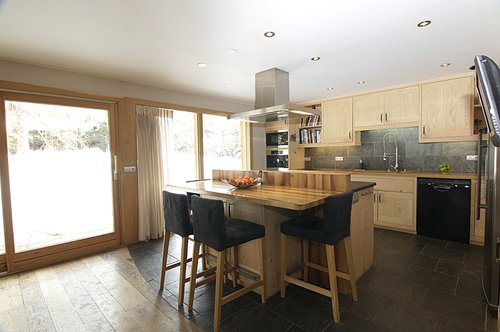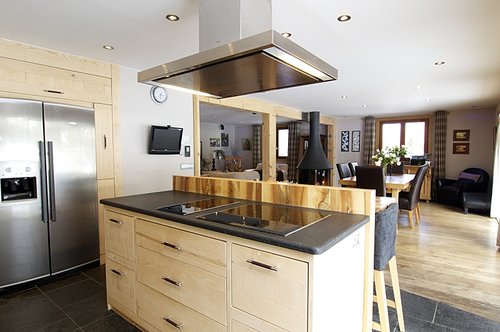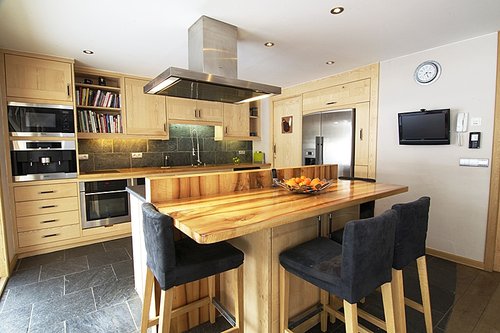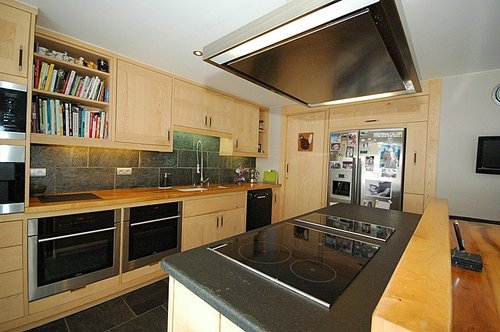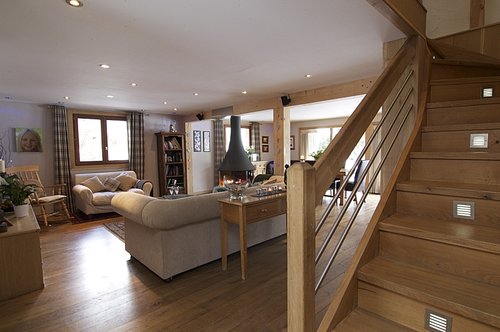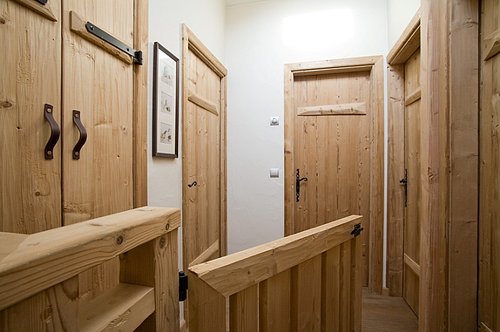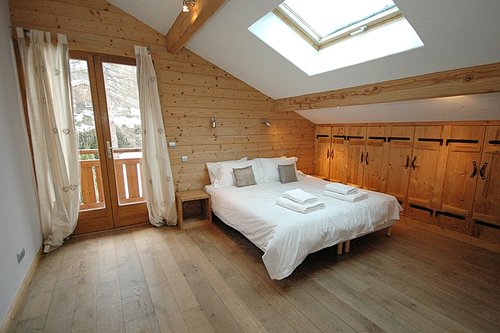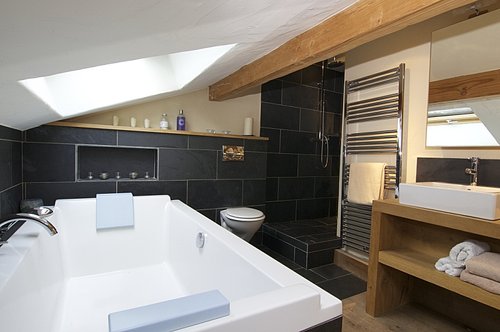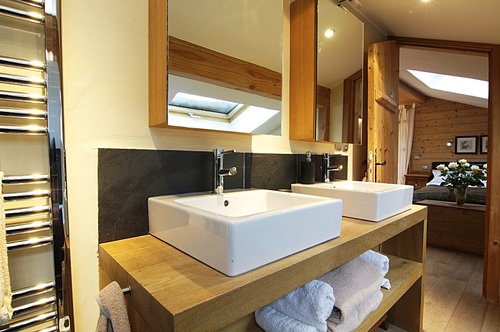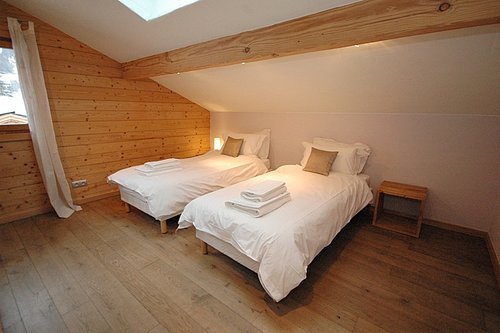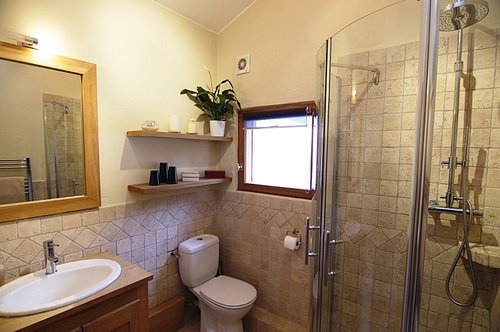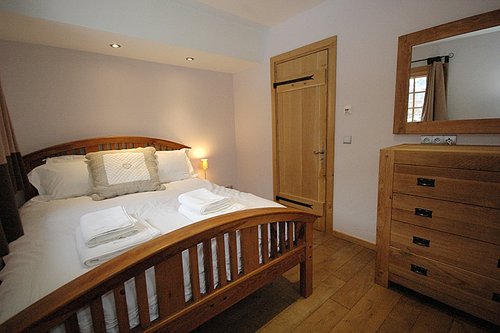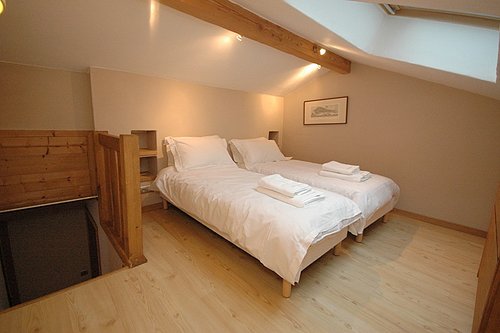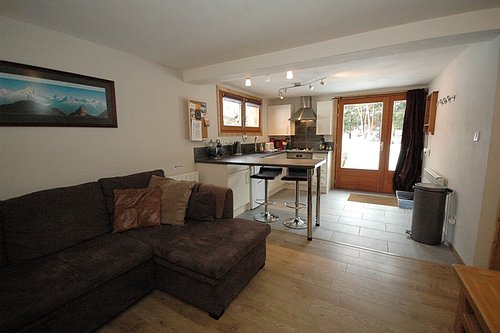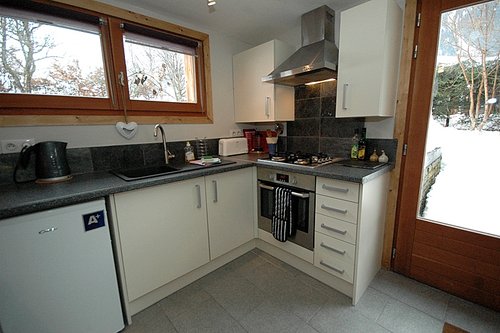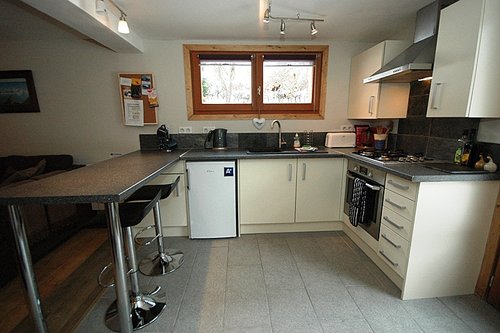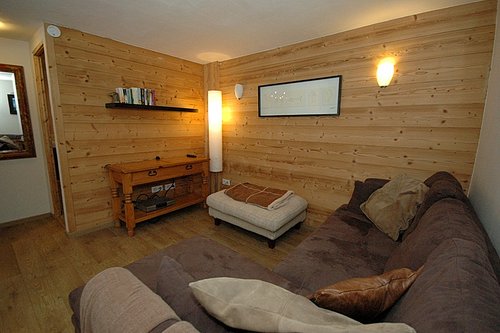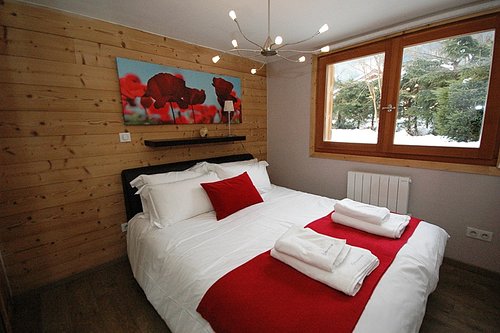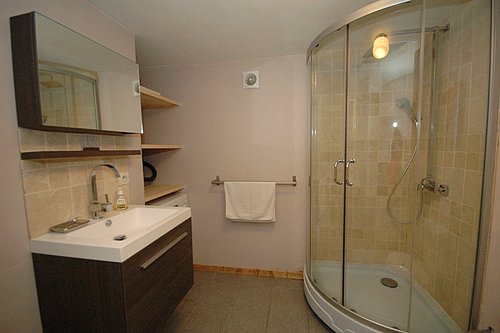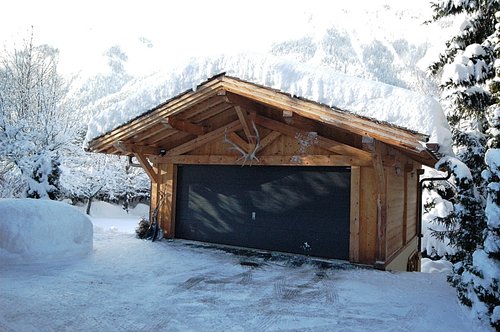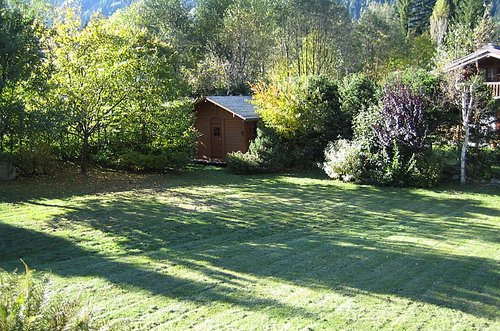 NEW PROPERTY
Chalet Favrands is a superb four bedroom chalet which sleeps up to 10 people in 4 bedrooms and a mezzanine. In addition, there is an independent one bedroom apartment making the maximum occupancy 12. Renovated to a high standard, Favrands offers a blend of traditional style and materials with contemporary facilities and conveniences. It is located in les Favrands, a popular residential area of Chamonix which provides a quiet location within a 15 minutes' walk from the town square.

The chalet is laid out over two main floors. The ground floor entrance hall provides storage for coats and boots and a stair leads down to a large utility room perfect for ski and equipment storage. This room also has laundry facilities. A door from the entrance hall leads into the main living area which is open-plan and spacious with a 360' central log burner. The Chalet benefits from UK TV and free WiFi. The kitchen is fully equipped and has a breakfast bar with 4 stools in addition to the main dining table which comfortably sits 10 people. Three sets of glazed sliding doors lead onto the south facing terrace and large garden which enjoy wonderful views of the Mont Blanc range. On this floor, there is also a double bedroom with an adjacent shower room. A steep ladder stairs leads to a mezzanine bedroom which has flexible beds ie can be set up as a double or 2 singles.

On the first floor, there are three flexible bedrooms. The master bedroom has an ensuite with a large bath, shower and twin basins. There is access onto the south facing balcony as is true of the neighbouring bedroom. This bedroom and the 3rd bedroom on this floor share a shower room.

The Chalet has secluded, mature gardens to the front and rear, enjoying magnificent views of the Mont Blanc range, external parking and a detached double garage with an independent one bedroom apartment. There is a €250 winter season supplement for using the independant apartment (€150 summer season). Please contact us when booking to reserve this room.

NEW FOR SUMMER 2014 The chalet will benefit from a hot tub, which will adjoin the deck and enjoy Mont-Blanc views.
Features

Balcony
Garden
Terrace
Covered Parking
Fireplace
Short stays possible
Facilities

UK TV (Freeview)
Wifi internet access
Flat screen TV
Microwave
Oven / Grill
Hob
Fridge
Freezer
Dishwasher
Washing machine
Outside furniture
Chalet Favrands is located in the popular Favrands residential area of Chamonix, a quiet location to the south west of the town centre. Rue Paccard, the main shopping street in Chamonix, is a pleasant 15 minute walk (1200 metres).

The nearest supermarket is Marche U in les Pelerins, 500 metres away. The nearest bars and restaurants are the Jekyll and l'Impossible (600 metres), with many other facilities in Chamonix itself.

For access to the slopes, it is recommended that guests have a car for the most flexibility, in this location. The main bus stop is 650 metres away along Route des Pelerins, with a local connecting bus close to the chalet.


Winter 2013/2014 season
- all prices quoted in
EUROS
2013
2014
M
T
W
T
F
S
S
M
T
W
T
F
S
S
M
T
W
T
F
S
S
M
T
W
T
F
S
S
M
T
W
T
F
S
S
M
T
Nov 13
X
Dec 13
X
X
X
X
X
X
X
X
X
X
X
X
X
X
X
X
X
X
X
X
X
X
X
X
X
X
X
X
X
X
X
Jan 14
X
X
X
4
X
X
X
8
9
10
X
X
X
X
X
X
X
18
19
20
21
22
X
X
X
26
27
28
29
X
X
Feb 14
X
X
X
X
X
X
X
X
X
X
X
12
13
14
X
X
X
X
X
X
X
22
23
24
25
26
X
X
Mar 14
X
X
3
4
5
X
X
X
X
10
11
12
13
14
X
X
X
X
X
X
X
X
23
24
25
26
X
X
X
X
31
Apr 14
1
2
3
4
5
6
7
8
9
10
11
12
13
14
15
16
17
18
19
20
21
22
23
24
25
26
27
28
29
30
May 14
1
2
3
4
5
6
7
8
9
| | | | | | | | | | | | |
| --- | --- | --- | --- | --- | --- | --- | --- | --- | --- | --- | --- |
| 4500 / week | | 4000 / week | | 3000 / week | | 2500 / week | | 2250 / week | | 1750 / week | |
| | | | | 600 / night | | 500 / night | | 450 / night | | 350 / night | |
Summer 2014 season
- all prices quoted in
EUROS
| 2014 | M | T | W | T | F | S | S | M | T | W | T | F | S | S | M | T | W | T | F | S | S | M | T | W | T | F | S | S | M | T | W | T | F | S | S | M | T |
| --- | --- | --- | --- | --- | --- | --- | --- | --- | --- | --- | --- | --- | --- | --- | --- | --- | --- | --- | --- | --- | --- | --- | --- | --- | --- | --- | --- | --- | --- | --- | --- | --- | --- | --- | --- | --- | --- |
| May 14 | | | | | | | | | | | | | 10 | 11 | 12 | 13 | 14 | 15 | 16 | 17 | 18 | 19 | 20 | 21 | 22 | 23 | 24 | 25 | X | X | X | X | X | X | | | |
| Jun 14 | | | | | | | X | 2 | 3 | 4 | 5 | 6 | 7 | 8 | 9 | 10 | 11 | 12 | 13 | X | X | X | X | X | X | X | X | X | X | X | X | X | X | X | X | X | |
| Jul 14 | | X | X | X | X | X | X | X | X | X | X | X | 12 | 13 | 14 | 15 | 16 | 17 | 18 | X | X | X | X | X | X | X | X | X | X | X | X | X | | | | | |
| Aug 14 | | | | | X | X | X | X | X | X | X | X | 9 | 10 | 11 | 12 | 13 | 14 | 15 | 16 | 17 | 18 | 19 | 20 | 21 | 22 | 23 | 24 | 25 | X | X | X | X | X | X | | |
| Sep 14 | X | 2 | 3 | 4 | 5 | 6 | 7 | 8 | 9 | 10 | 11 | 12 | 13 | 14 | 15 | 16 | 17 | 18 | 19 | 20 | 21 | 22 | 23 | 24 | 25 | 26 | 27 | 28 | 29 | 30 | | | | | | | |
| Oct 14 | | | 1 | 2 | 3 | 4 | 5 | 6 | 7 | 8 | 9 | 10 | 11 | 12 | 13 | 14 | 15 | 16 | 17 | 18 | 19 | 20 | 21 | 22 | 23 | 24 | 25 | 26 | 27 | 28 | 29 | 30 | 31 | | | | |
| Nov 14 | | | | | | 1 | 2 | 3 | 4 | 5 | 6 | 7 | 8 | 9 | 10 | 11 | 12 | 13 | 14 | 15 | 16 | 17 | 18 | 19 | 20 | 21 | 22 | 23 | 24 | 25 | 26 | 27 | 28 | | | | |
| | | | | | | | |
| --- | --- | --- | --- | --- | --- | --- | --- |
| 2150 / week | | 1600 / week | | 1350 / week | | 1100 / week | |
| | | | | | | | |
Winter 2014/2015 season
- all prices quoted in
EUROS
2014
2015
M
T
W
T
F
S
S
M
T
W
T
F
S
S
M
T
W
T
F
S
S
M
T
W
T
F
S
S
M
T
W
T
F
S
S
M
T
Nov 14
29
30
Dec 14
1
2
3
4
5
6
7
8
9
10
11
12
13
14
15
16
17
18
19
X
X
X
X
X
X
X
X
X
X
X
X
Jan 15
X
X
3
4
5
6
7
8
9
10
11
12
13
14
15
16
17
18
19
20
21
22
23
24
25
26
27
28
29
30
31
Feb 15
1
2
3
4
5
6
7
8
9
10
11
12
13
14
15
16
17
18
19
20
21
22
23
24
25
26
27
28
Mar 15
1
2
3
4
5
6
7
8
9
10
11
12
13
14
15
16
17
18
19
20
21
22
23
24
25
26
27
28
29
30
31
Apr 15
1
2
3
4
5
6
7
8
9
10
11
12
13
14
15
16
17
18
19
20
21
22
23
24
25
26
27
28
29
30
May 15
1
2
3
4
5
6
7
8
| | | | | | | | | | |
| --- | --- | --- | --- | --- | --- | --- | --- | --- | --- |
| 4750 / week | | 4250 / week | | 3500 / week | | 2250 / week | | 2000 / week | |
| | | | | | | | | | |
What's included
Exclusive use of the property and its facilities
All linen including towels (2 per person)
End of stay cleaning
Local Tourist Taxes

What's not included
Travel to and from Chamonix
Airport transfers can be arranged

NB
Prices are for self-catered accommodation
Bookings are from Saturday to Saturday although there may be flexibility in low season
Dates shown indicate date of arrival (after 4pm), departure before 10am
Arrivals after 7.30pm incur a €20 surcharge, after 11.30pm €50
Fee of 0.8% applicable to all card payments
Winter 2013/2014 season
- all prices quoted in
EUROS
2013
2014
M
T
W
T
F
S
S
M
T
W
T
F
S
S
M
T
W
T
F
S
S
M
T
W
T
F
S
S
M
T
W
T
F
S
S
M
T
Nov 13
X
Dec 13
X
X
X
X
X
X
X
X
X
X
X
X
X
X
X
X
X
X
X
X
X
X
X
X
X
X
X
X
X
X
X
Jan 14
X
X
X
4
X
X
X
8
9
10
X
X
X
X
X
X
X
18
19
20
21
22
X
X
X
26
27
28
29
X
X
Feb 14
X
X
X
X
X
X
X
X
X
X
X
12
13
14
X
X
X
X
X
X
X
22
23
24
25
26
X
X
Mar 14
X
X
3
4
5
X
X
X
X
10
11
12
13
14
X
X
X
X
X
X
X
X
23
24
25
26
X
X
X
X
31
Apr 14
1
2
3
4
5
6
7
8
9
10
11
12
13
14
15
16
17
18
19
20
21
22
23
24
25
26
27
28
29
30
May 14
1
2
3
4
5
6
7
8
9
| | | | | | | | | | | | |
| --- | --- | --- | --- | --- | --- | --- | --- | --- | --- | --- | --- |
| 4500 / week | | 4000 / week | | 3000 / week | | 2500 / week | | 2250 / week | | 1750 / week | |
| | | | | 600 / night | | 500 / night | | 450 / night | | 350 / night | |
Summer 2014 season
- all prices quoted in
EUROS
| 2014 | M | T | W | T | F | S | S | M | T | W | T | F | S | S | M | T | W | T | F | S | S | M | T | W | T | F | S | S | M | T | W | T | F | S | S | M | T |
| --- | --- | --- | --- | --- | --- | --- | --- | --- | --- | --- | --- | --- | --- | --- | --- | --- | --- | --- | --- | --- | --- | --- | --- | --- | --- | --- | --- | --- | --- | --- | --- | --- | --- | --- | --- | --- | --- |
| May 14 | | | | | | | | | | | | | 10 | 11 | 12 | 13 | 14 | 15 | 16 | 17 | 18 | 19 | 20 | 21 | 22 | 23 | 24 | 25 | X | X | X | X | X | X | | | |
| Jun 14 | | | | | | | X | 2 | 3 | 4 | 5 | 6 | 7 | 8 | 9 | 10 | 11 | 12 | 13 | X | X | X | X | X | X | X | X | X | X | X | X | X | X | X | X | X | |
| Jul 14 | | X | X | X | X | X | X | X | X | X | X | X | 12 | 13 | 14 | 15 | 16 | 17 | 18 | X | X | X | X | X | X | X | X | X | X | X | X | X | | | | | |
| Aug 14 | | | | | X | X | X | X | X | X | X | X | 9 | 10 | 11 | 12 | 13 | 14 | 15 | 16 | 17 | 18 | 19 | 20 | 21 | 22 | 23 | 24 | 25 | X | X | X | X | X | X | | |
| Sep 14 | X | 2 | 3 | 4 | 5 | 6 | 7 | 8 | 9 | 10 | 11 | 12 | 13 | 14 | 15 | 16 | 17 | 18 | 19 | 20 | 21 | 22 | 23 | 24 | 25 | 26 | 27 | 28 | 29 | 30 | | | | | | | |
| Oct 14 | | | 1 | 2 | 3 | 4 | 5 | 6 | 7 | 8 | 9 | 10 | 11 | 12 | 13 | 14 | 15 | 16 | 17 | 18 | 19 | 20 | 21 | 22 | 23 | 24 | 25 | 26 | 27 | 28 | 29 | 30 | 31 | | | | |
| Nov 14 | | | | | | 1 | 2 | 3 | 4 | 5 | 6 | 7 | 8 | 9 | 10 | 11 | 12 | 13 | 14 | 15 | 16 | 17 | 18 | 19 | 20 | 21 | 22 | 23 | 24 | 25 | 26 | 27 | 28 | | | | |
| | | | | | | | |
| --- | --- | --- | --- | --- | --- | --- | --- |
| 2150 / week | | 1600 / week | | 1350 / week | | 1100 / week | |
| | | | | | | | |
Winter 2014/2015 season
- all prices quoted in
EUROS
2014
2015
M
T
W
T
F
S
S
M
T
W
T
F
S
S
M
T
W
T
F
S
S
M
T
W
T
F
S
S
M
T
W
T
F
S
S
M
T
Nov 14
29
30
Dec 14
1
2
3
4
5
6
7
8
9
10
11
12
13
14
15
16
17
18
19
X
X
X
X
X
X
X
X
X
X
X
X
Jan 15
X
X
3
4
5
6
7
8
9
10
11
12
13
14
15
16
17
18
19
20
21
22
23
24
25
26
27
28
29
30
31
Feb 15
1
2
3
4
5
6
7
8
9
10
11
12
13
14
15
16
17
18
19
20
21
22
23
24
25
26
27
28
Mar 15
1
2
3
4
5
6
7
8
9
10
11
12
13
14
15
16
17
18
19
20
21
22
23
24
25
26
27
28
29
30
31
Apr 15
1
2
3
4
5
6
7
8
9
10
11
12
13
14
15
16
17
18
19
20
21
22
23
24
25
26
27
28
29
30
May 15
1
2
3
4
5
6
7
8
| | | | | | | | | | |
| --- | --- | --- | --- | --- | --- | --- | --- | --- | --- |
| 4750 / week | | 4250 / week | | 3500 / week | | 2250 / week | | 2000 / week | |
| | | | | | | | | | |
What's included
Exclusive use of the property and its facilities
All linen including towels (2 per person)
End of stay cleaning
Local Tourist Taxes

What's not included
Travel to and from Chamonix
Airport transfers can be arranged

NB
Prices are for self-catered accommodation
Bookings are from Saturday to Saturday although there may be flexibility in low season
Dates shown indicate date of arrival (after 4pm), departure before 10am
Arrivals after 7.30pm incur a €20 surcharge, after 11.30pm €50
Fee of 0.8% applicable to all card payments