Make an enquiry
Summary
Type: Chalet
Sleeps: 6 / 8
Bedrooms: 3
Bathrooms: 2
WCs: 3
Surface Area: 140m²
Facilities
Wellness & Relaxation
Hot tub
Sauna
Log fireplace
TV room
Media / Audio Visual
Free WiFi
UK TV
French TV
DVD player
Games console
Outdoor & Parking
BBQ in summer
Balcony
Garden
Terrace
Outdoor furniture
Exterior parking
Kitchen & Laundry
Full-size oven
Microwave
Fridge
Dishwasher
Washing machine
Tumble dryer
Coffee machine
Iron & Board
Equipment Storage
Other
Mont Blanc view
Car - Recommended
Hair dryer
Make an enquiry
360° Tour
Floorplan
Chalet Chimere is especially light and airy and has been designed to take full advantage of the surrounding scenery with its double height ceilings and large picture windows. Situated in a peaceful residential area the chalet is 300 metres from the local bus stop with services to the lift stations and 15 minutes walk from the high street. With spa facilities and fabulous views of Mont Blanc, Chalet Chimere is ideal for a relaxing mountain holiday.
Key Features
Outdoor hot-tub with fabulous views of Mont Blanc and indoor sauna
Large garden and terrace with outdoor furniture so you can enjoy your meals in the sunshine
Stylish wood-burning stove in the living area for cosy winter evenings by the fireside
Separate TV room for those that want to relax in front of a film without disturbing the conversation
Plenty to keep everyone entertained with Free WiFi, UK Freesat TV, DVD player and Games Console
External parking for 3 cars in the chalet's driveway
Bedrooms
As standard, the chalet sleeps 6 people in 3 bedrooms, however, you can sleep up to 8 in 4 bedrooms when the 4th bedroom is included for a 15% supplement. There are a maximum of 7 separate beds available, configured as follows:
Bedroom 1: Flexible double or twin room (ground floor) with adjacent bathroom with WC and access onto the deck
Bedroom 2: Double room (first floor) with access to a shared family bathroom with bath, shower and WC
Bedroom 3: Flexible double or twin room (first floor) with access to a shared family bathroom with bath, shower and WC
Bedroom 4 (15% supplement): Flexible double or twin room (lower ground floor) with en-suite shower room with WC
Our opinion
This is a very popular property that will sadly leave our books at the end of the summer to be turned into a family home.
Location
Chalet Chimère sits on the private, tree-lined Chemin des Lupins, in a quiet area called les Favrands, to the south west of the town centre. Rue Paccard, the main shopping street in Chamonix, is a pleasant 15 minute walk (1200 metres). The nearest supermarket is Marche U in les Pelerins, 500 metres away. The nearest bars and restaurants are the Jekyll and l'Impossible (600 metres), with many other facilities in Chamonix itself. For access to the slopes, it is recommended that guests have a car for the most flexibility, in this location. The main bus stop is 650 metres away along Route des Pelerins, with a local connecting bus close to the chalet.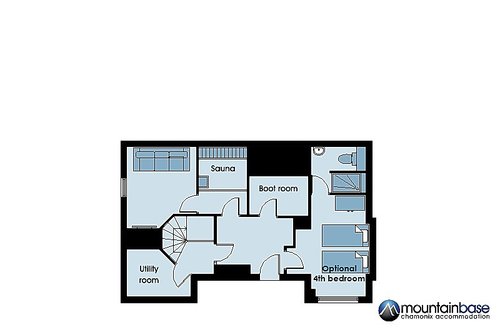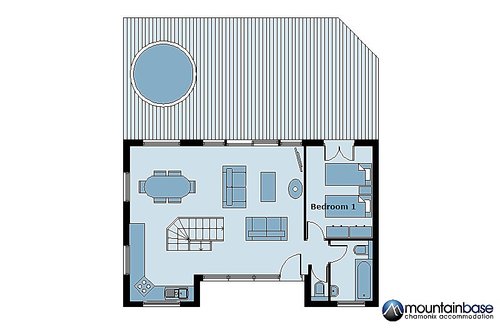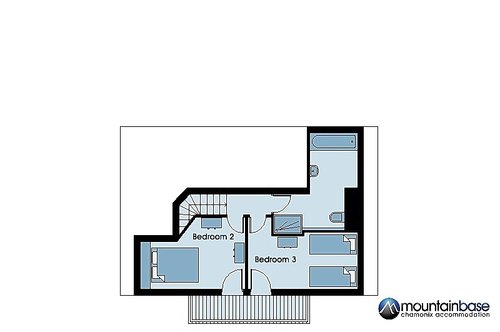 Lower floor (drive level) Entrance from the driveway into a lobby leading into a heated boot room. Laundry room with washing machine, dryer and large fridge for additional storage. Optional 4th bedroom, sauna and television room. Stairs up to living area level. Ground floor (garden level) Second entrance via steps from the driveway. Living area opening via French doors onto the deck, dining area and kitchen. Bedroom (twin) opening onto deck as well, shower room, separate WC. First floor Stairs up to landing with 2 bedrooms, one double and one flexible (can be twin or double). Bathroom with WC and separate shower.
What's Included
Exclusive use of the property and its facilities
Welcome on arrival and in-resort presence for assistance
Bed linen as per selected beds
2 bath towels & 1 bathrobe per person
3 hand towels, 3 bath mats, 2 tea towels
Cleaning products, bin bags, washing up liquid & sponge, dishwasher tablets, Salt & Pepper, 3 toilet rolls, 3 hand soaps
3 Hair dryers
WiFi
Parking
Complimentary bottle of wine
Logs for wood burner
Hot-tub maintenance
Snow clearance
End of stay cleaning
Local tourist taxes
Carte d'hote (free bus & train pass) per person
Additional services we can organise on your behalf:
Airport transfers & in-resort taxi/shuttle service
Welcome food packs
Delivery of bread & breakfast pastries and pre-prepared meals
Catering with a private chef
Childcare and cot & high-chair rentals
Additional cleaning and linen services
Spas and pampering
Lift passes, delivered to the property on arrival
Equipment hire including skis, snowboards and mountain bikes
Ski and snowboard lessons
Mountain guides
Winter activities: cross country skiing, helicopter tours, heli skiing, husky rides, ice climbing, paragliding, mountain safety courses etc
Summer activities: canoeing, canyoning, hiking, golf, horse riding, Mont Blanc, mountain biking, mountaineering, rock climbing, paragliding, trail running, white water rafting etc
"Perfect! It was such a wonderful time for us. Everything was perfect. Thank you so much. We hope to come back again next year"
N Tromm

"Overall, it was an excellent experience. We loved the chalet and it exceeded our expectations!! Would rent this chalet again!"
A Shields

"We can't recommend Mountain Base highly enough. All staff are great and always go that extra mile to help make sure your stay is more enjoyable. We wouldn't dream of going anywhere else!"
Simply Solutions

"We have used Mountain Base chalets for our clients for a number of years. The team have always provided outstanding levels of customer service in terms of answering questions, fulfilling our chalet requirements, flexibility around booking to suit us, and ensuring presentation of chalets to a top level. I would highly recommend Mountain Base to family and corporate clients without any hesitation"
Hardcross CHX

Price & Availability Overview
To calculate the price of your stay use the 'Check-in - Check-out' date picker above
A discount of 10% applies to 6 nights and 20% to 7 + nights
Short stays priced at a minimum of 4 nights.
September 2018

Mon
Tue
Wed
Thu
Fri
Sat
Sun

X

2

3

X

X

X

X

X

X

X

X

X

X

X

X

X

X

X

X

X

X

X

X

X

X

X

X

X

X

X
October 2018

Mon
Tue
Wed
Thu
Fri
Sat
Sun

X

X

X

X

X

X

X

X

X

X

X

X

X

X

X

X

X

X

X

X

X

X

X

X

X

X

X

X

X

X

X
November 2018

Mon
Tue
Wed
Thu
Fri
Sat
Sun

X

X

X

X

X

X

X

X

X

X

X

X

X

X

X

X

X

X

X

X

X

X

X

X

X

X

X

X

X

X
December 2018

Mon
Tue
Wed
Thu
Fri
Sat
Sun

X

X

X

X

X

X

X

X

X

X

X

X

X

X

X

X

X

X

X

X

X

X

X

X

X

X

X

X

X

X

X
January 2019

Mon
Tue
Wed
Thu
Fri
Sat
Sun

X

X

X

X

X

X

X

X

X

X

X

X

X

X

X

X

X

X

X

X

X

X

X

X

X

X

X

X

X

X

X
February 2019

Mon
Tue
Wed
Thu
Fri
Sat
Sun

X

X

X

X

X

X

X

X

X

X

X

X

X

X

X

X

X

X

X

X

X

X

X

X

X

X

X

X
March 2019

Mon
Tue
Wed
Thu
Fri
Sat
Sun

X

X

X

X

X

X

X

X

X

X

X

X

X

X

X

X

X

X

X

X

X

X

X

X

X

X

X

X

X

X

X
April 2019

Mon
Tue
Wed
Thu
Fri
Sat
Sun

X

X

X

X

X

X

X

X

X

X

X

X

X

X

X

X

X

X

X

X

X

X

X

X

X

X

X

X

X

X
May 2019

Mon
Tue
Wed
Thu
Fri
Sat
Sun

X

X

X

X

X

X

X

X

X

X

X

X

X

X

X

X

X

X

X

X

X

X

X

X

X

X

X

X

X

X

X
June 2019

Mon
Tue
Wed
Thu
Fri
Sat
Sun

X

X

X

X

X

X

X

X

X

X

X

X

X

X

X

X

X

X

X

X

X

X

X

X

X

X

X

X

X

X
July 2019

Mon
Tue
Wed
Thu
Fri
Sat
Sun

X

X

X

X

X

X

X

X

X

X

X

X

X

X

X

X

X

X

X

X

X

X

X

X

X

X

X

X

X

X

X
August 2019

Mon
Tue
Wed
Thu
Fri
Sat
Sun

X

X

X

X

X

X

X

X

X

X

X

X

X

X

X

X

X

X

X

X

X

X

X

X

X

X

X

X

X

X

X
September 2019

Mon
Tue
Wed
Thu
Fri
Sat
Sun

X

X

X

X

X

X

X

X

X

X

X

X

X

X

X

X

X

X

X

X

X

X

X

X

X

X

X

X

X

X
October 2019

Mon
Tue
Wed
Thu
Fri
Sat
Sun

X

X

X

X

X

X

X

X

X

X

X

X

X

X

X

X

X

X

X

X

X

X

X

X

X

X

X

X

X

X

X
November 2019

Mon
Tue
Wed
Thu
Fri
Sat
Sun

X

X

X

X

X

X

X

X

X

X

X

X

X

X

X

X

X

X

X

X

X

X

X

X

X

X

X

X

X

X
Summer 2018
€200.00 / night
€250.00 / night
€370.00 / night
X Booked
---