Jonquille 317
Chamonix, France
Summary
| | |
| --- | --- |
| Property: | Apartment |
| Sleeps: | 2 / 4 |
| Bedrooms: | 1 |
| Bathrooms: | 1 |
| Location: | Chamonix |
| Rating: | |
| Price Range: | €300 - €475 / week |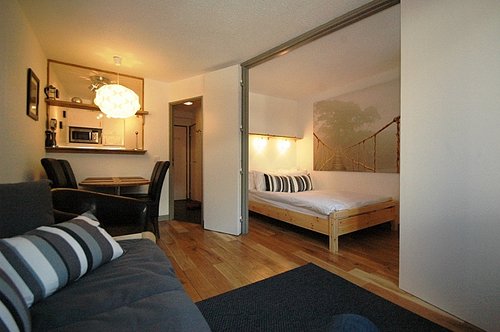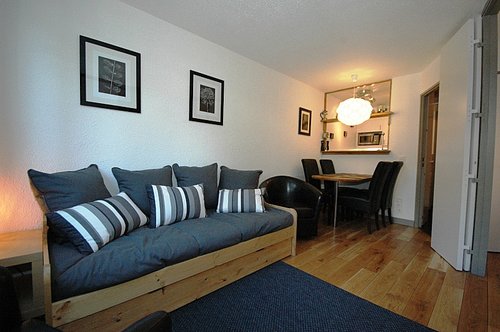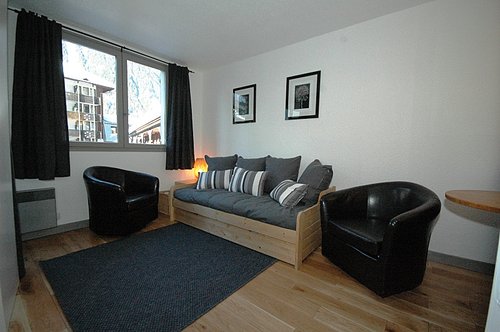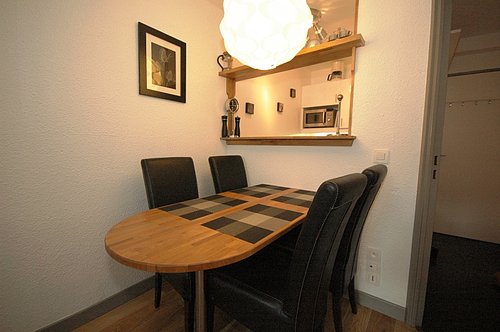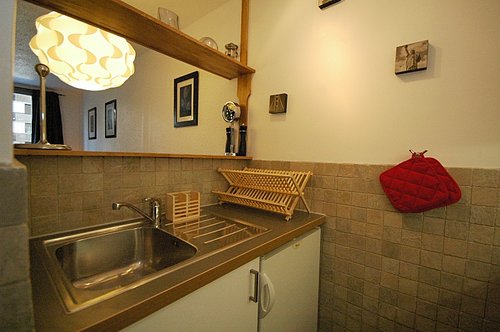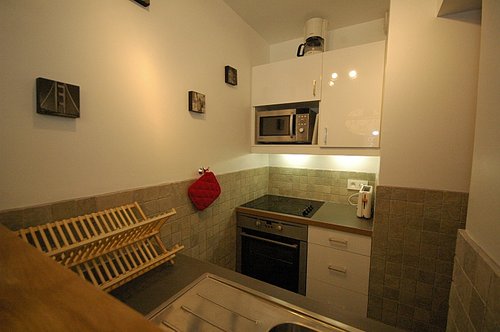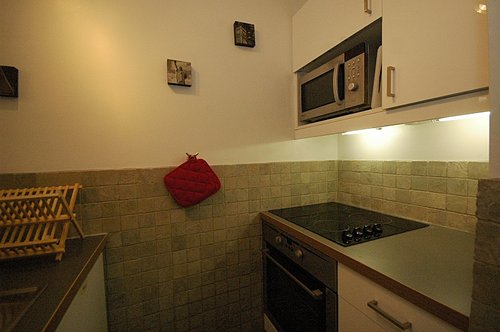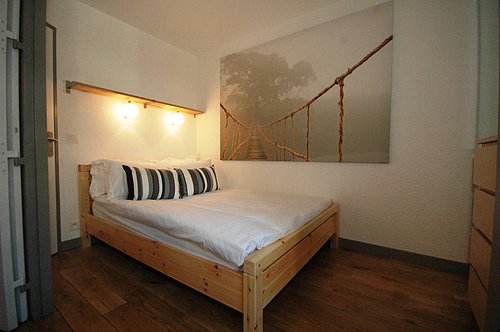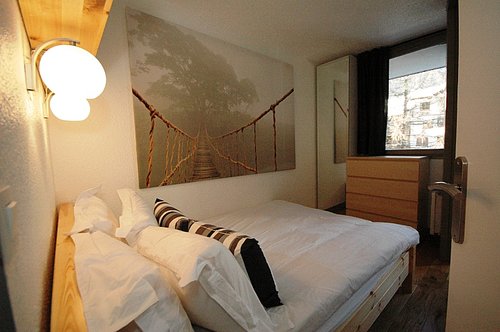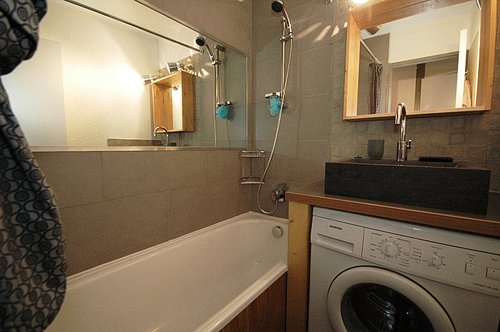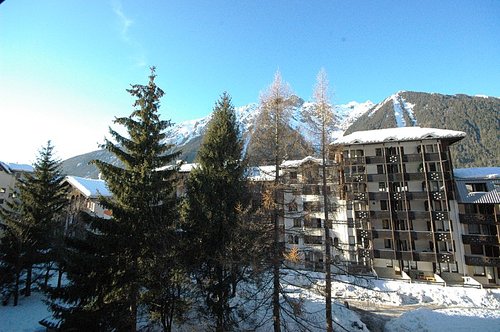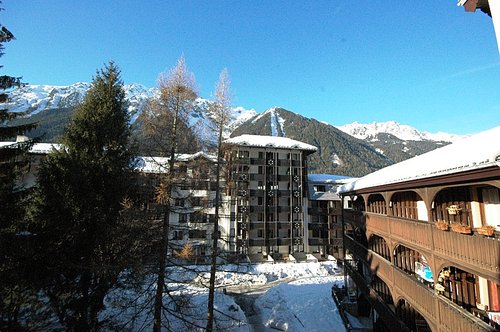 Jonquille 317, a 3rd floor apartment, was completely refurbished for the Winter of 2011/12 and provides comfortable, stylish accommodation.

The apartment opens into a small hallway with storage and the other rooms leading off. The bathroom has a washing machine and there is a separate WC. The kitchen is fully fitted and looks into the living area. This has a dining table for 4 and a sofabed which converts to 2 single beds. Folding doors can be opened between this area and the bedroom to create a greater sense of space. A glass door opens onto a small balcony which looks over an area with mature trees and upwards to some of the surrounding peaks.

The apartment has a ski locker and there is access to the underground car park which has a space for the apartment's use.

Jonquille 317 is ideal for 2 people or 4 on a budget.


Features

Central location
Fully refurbished
Access to Underground parking - Max. height 1.85m
Balcony
Facilities

French TV channels
Wifi internet access
DVD player
Microwave
Oven / Grill
Hob
Fridge
Washing machine
Access by lift
This apartment in Chamonix is located in the "Sud" (south) part of town, just a few minutes walk from the town centre and very conveniently located for all Chamonix attractions and amenities.

Chamonix Sud centres around a sunny pedestrianised square where you will find a small collection of bars, restaurants and shops. If you are looking for more nightlife, apres-ski or dining options then there are lots of bars and restaurants in Chamonix town centre, within easy walking distance.

The Aiguille du Midi cable car station is a stone's throw away; one of the most popular sightseeing attractions in France, it gives access to the famous Vallee Blanche off-piste ski run in winter and countless alpine hiking and climbing routes in summer.

Train and bus stations are close by, giving easy access to all the Chamonix ski areas. The nearest pisted ski slopes are at Le Brevent, just a few minutes bus ride away. Public transport in Chamonix is free of charge with your "carte d'hôte" guest card, given to you when you check in to your accommodation.


Summer 2016 season
- all prices quoted in
EUROS
| 2016 | M | T | W | T | F | S | S | M | T | W | T | F | S | S | M | T | W | T | F | S | S | M | T | W | T | F | S | S | M | T | W | T | F | S | S | M | T |
| --- | --- | --- | --- | --- | --- | --- | --- | --- | --- | --- | --- | --- | --- | --- | --- | --- | --- | --- | --- | --- | --- | --- | --- | --- | --- | --- | --- | --- | --- | --- | --- | --- | --- | --- | --- | --- | --- |
| May 16 | | | | | | | | | | | | | 7 | 8 | 9 | 10 | 11 | 12 | X | X | X | 16 | 17 | 18 | X | X | X | 22 | 23 | 24 | 25 | 26 | 27 | X | X | X | X |
| Jun 16 | | | X | X | X | 4 | 5 | 6 | 7 | 8 | 9 | 10 | 11 | X | X | X | 15 | 16 | X | X | X | X | X | X | X | 24 | X | X | X | X | 29 | 30 | | | | | |
| Jul 16 | | | | | 1 | X | X | X | X | 6 | 7 | 8 | X | X | X | X | X | X | X | X | X | X | X | X | X | X | X | X | X | X | X | X | X | X | X | | |
| Aug 16 | X | X | X | X | X | X | X | X | X | X | X | X | X | X | X | X | X | X | X | X | X | X | X | X | X | X | X | X | X | X | X | | | | | | |
| Sep 16 | | | | X | X | X | X | X | X | X | X | X | X | X | X | X | X | X | X | 17 | 18 | 19 | 20 | 21 | 22 | 23 | 24 | 25 | 26 | 27 | 28 | 29 | 30 | | | | |
| Oct 16 | | | | | | 1 | 2 | 3 | 4 | 5 | 6 | 7 | 8 | 9 | 10 | 11 | 12 | 13 | 14 | 15 | 16 | 17 | 18 | 19 | 20 | 21 | X | X | X | X | X | X | X | X | X | X | |
| Nov 16 | | X | X | X | X | X | X | X | X | X | X | X | X | X | X | X | X | X | X | X | X | X | X | X | X | X | | | | | | | | | | | |
| | | | | | | | |
| --- | --- | --- | --- | --- | --- | --- | --- |
| 475 / week | | 400 / week | | 350 / week | | 300 / week | |
| 95 / night | | 80 / night | | 70 / night | | 60 / night | |
What's included
Exclusive use of the property and its facilities
All linen including towels (1 per person)
End of stay cleaning
Local Tourist Taxes

What's not included
Travel to and from Chamonix
Airport transfers can be arranged

NB
Prices are for self-catered accommodation
Bookings are taken from Saturday to Saturday although there may be flexibility in low season
Dates shown indicate date of arrival (after 4pm), departure before 10am
Arrivals after 7.30pm incur a €20 surcharge, after 11.30pm €50
Fee of 0.8% applicable to all card payments
Summer 2016 season
- all prices quoted in
EUROS
| 2016 | M | T | W | T | F | S | S | M | T | W | T | F | S | S | M | T | W | T | F | S | S | M | T | W | T | F | S | S | M | T | W | T | F | S | S | M | T |
| --- | --- | --- | --- | --- | --- | --- | --- | --- | --- | --- | --- | --- | --- | --- | --- | --- | --- | --- | --- | --- | --- | --- | --- | --- | --- | --- | --- | --- | --- | --- | --- | --- | --- | --- | --- | --- | --- |
| May 16 | | | | | | | | | | | | | 7 | 8 | 9 | 10 | 11 | 12 | X | X | X | 16 | 17 | 18 | X | X | X | 22 | 23 | 24 | 25 | 26 | 27 | X | X | X | X |
| Jun 16 | | | X | X | X | 4 | 5 | 6 | 7 | 8 | 9 | 10 | 11 | X | X | X | 15 | 16 | X | X | X | X | X | X | X | 24 | X | X | X | X | 29 | 30 | | | | | |
| Jul 16 | | | | | 1 | X | X | X | X | 6 | 7 | 8 | X | X | X | X | X | X | X | X | X | X | X | X | X | X | X | X | X | X | X | X | X | X | X | | |
| Aug 16 | X | X | X | X | X | X | X | X | X | X | X | X | X | X | X | X | X | X | X | X | X | X | X | X | X | X | X | X | X | X | X | | | | | | |
| Sep 16 | | | | X | X | X | X | X | X | X | X | X | X | X | X | X | X | X | X | 17 | 18 | 19 | 20 | 21 | 22 | 23 | 24 | 25 | 26 | 27 | 28 | 29 | 30 | | | | |
| Oct 16 | | | | | | 1 | 2 | 3 | 4 | 5 | 6 | 7 | 8 | 9 | 10 | 11 | 12 | 13 | 14 | 15 | 16 | 17 | 18 | 19 | 20 | 21 | X | X | X | X | X | X | X | X | X | X | |
| Nov 16 | | X | X | X | X | X | X | X | X | X | X | X | X | X | X | X | X | X | X | X | X | X | X | X | X | X | | | | | | | | | | | |
| | | | | | | | |
| --- | --- | --- | --- | --- | --- | --- | --- |
| 475 / week | | 400 / week | | 350 / week | | 300 / week | |
| 95 / night | | 80 / night | | 70 / night | | 60 / night | |
What's included
Exclusive use of the property and its facilities
All linen including towels (1 per person)
End of stay cleaning
Local Tourist Taxes

What's not included
Travel to and from Chamonix
Airport transfers can be arranged

NB
Prices are for self-catered accommodation
Bookings are taken from Saturday to Saturday although there may be flexibility in low season
Dates shown indicate date of arrival (after 4pm), departure before 10am
Arrivals after 7.30pm incur a €20 surcharge, after 11.30pm €50
Fee of 0.8% applicable to all card payments