Petit Chalet Chocolat
Chamonix, France
Summary
| | |
| --- | --- |
| Property: | Chalet |
| Sleeps: | 4 / 5 |
| Bedrooms: | 2 |
| Bathrooms: | 1 |
| Location: | Chamonix |
| Rating: | |
| Price Range: | €695 - €1350 / week |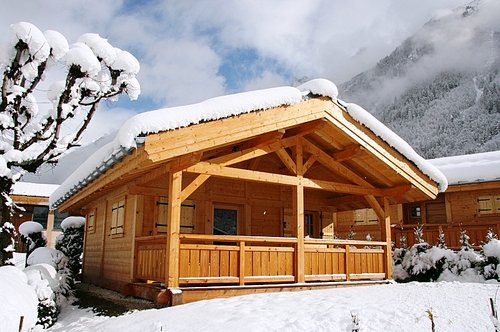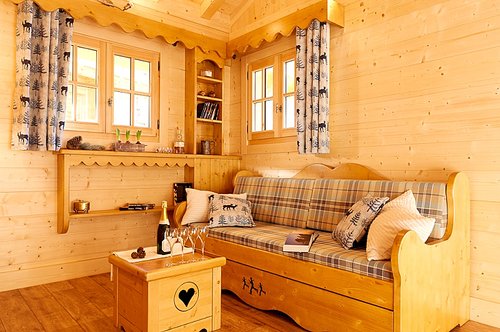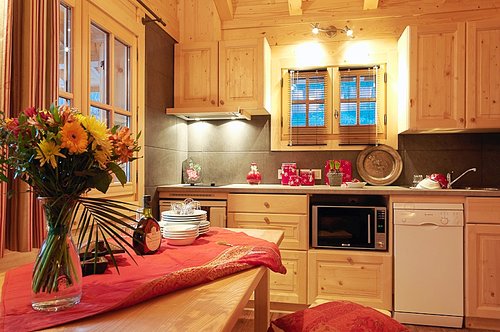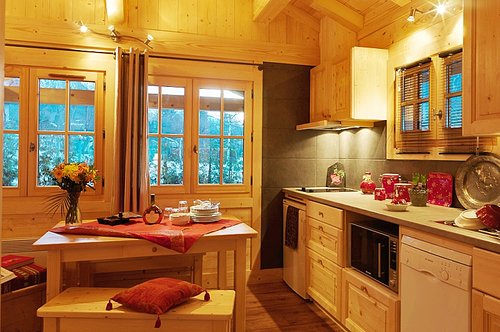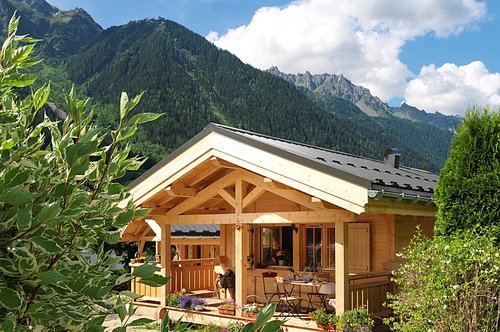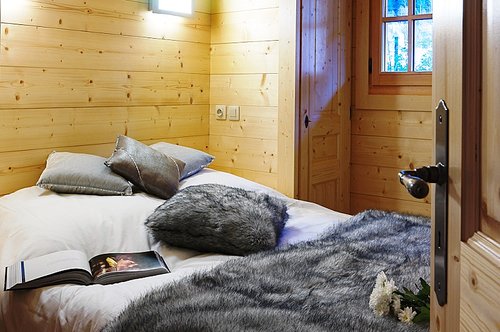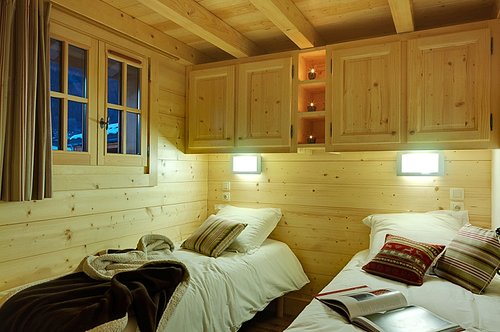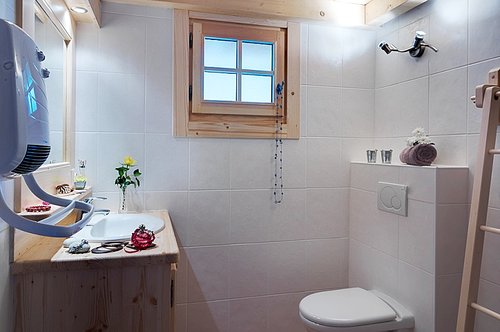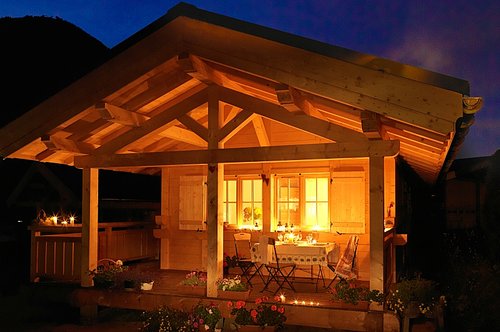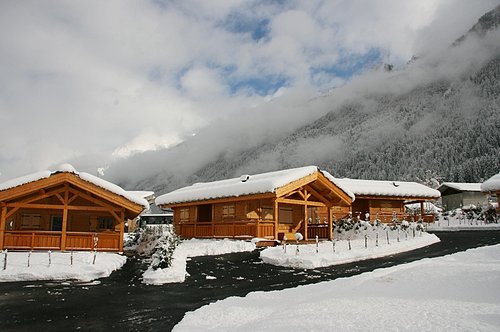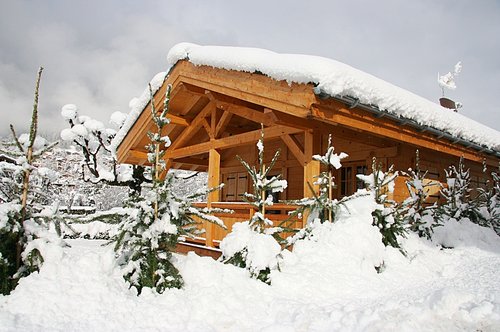 The Petit Chalets are part of the Barrats camping ground. This is closed to campers during the winter, giving plenty of space for the chalets.

Each chalet has been built to a high standard in a traditional style. Alongside the bedrooms, the chalets comprise a shower room and a fully equipped kitchen with electric hob, microwave oven, fridge and dishwasher. Each chalet has a private terrace, small garden and parking. The main campsite building (30 metres away) has ski lockers and heated boot racks.

Petit Chalet Chocolat is a 2 bedroom chalet, both bedrooms having single beds that can be pushed together if desired. In addition, there is a single sofabed in the living area, making the maximum capacity 5 people.
Features

Great views
Garden
Terrace
Parking
Facilities

French TV channels
Wifi internet access
Flat screen TV
Microwave
Hob
Fridge
Dishwasher
Boot Dryer
The Petits Chalets are situated on the Ile des Barrats, a short distance to the south-west of Chamonix centre. They are 1km (10 minutes walk) from the main shopping street, Rue Docteur Paccard, but many amenities are available closer by.

The nearest supermarket is Marche U in les Pelerins (700 metres), or Spar in Chamonix Sud (750 metres). The nearest bar and restaurant is the Jekyll & Hyde (450 metres), next door to the l'Impossible restaurant, with several other options close by.

For access to the slopes, the chalets are 500 metres from the main bus stop. The nearest ski area is Brevent, 2 minutes by bus from the main stop, or 3 minutes by car.


Winter 2013/2014 season
- all prices quoted in
EUROS
2013
2014
M
T
W
T
F
S
S
M
T
W
T
F
S
S
M
T
W
T
F
S
S
M
T
W
T
F
S
S
M
T
W
T
F
S
S
M
T
Nov 13
30
Dec 13
1
2
3
4
5
6
7
8
9
10
11
12
13
14
15
16
17
18
19
20
X
X
X
X
X
X
X
X
X
X
X
Jan 14
X
X
X
X
X
X
X
X
X
X
11
12
13
14
15
16
17
18
19
20
21
22
X
X
X
X
X
X
X
30
31
Feb 14
1
2
3
4
5
6
7
8
9
10
11
12
13
14
X
X
X
X
X
X
X
22
23
24
25
26
27
28
Mar 14
1
2
3
4
5
6
7
8
9
10
11
12
13
14
15
16
17
18
19
20
21
22
23
24
25
26
27
28
29
30
31
Apr 14
1
2
3
4
5
6
7
8
9
10
11
12
13
14
15
16
17
18
19
20
21
22
23
24
25
26
27
28
29
30
May 14
1
2
3
4
5
6
7
8
9
| | | | | | | | | | | | |
| --- | --- | --- | --- | --- | --- | --- | --- | --- | --- | --- | --- |
| 1350 / week | | 1200 / week | | 950 / week | | 850 / week | | 750 / week | | 700 / week | |
| | | | | | | | | | | | |
Summer 2014 season
- all prices quoted in
EUROS
| 2014 | M | T | W | T | F | S | S | M | T | W | T | F | S | S | M | T | W | T | F | S | S | M | T | W | T | F | S | S | M | T | W | T | F | S | S | M | T |
| --- | --- | --- | --- | --- | --- | --- | --- | --- | --- | --- | --- | --- | --- | --- | --- | --- | --- | --- | --- | --- | --- | --- | --- | --- | --- | --- | --- | --- | --- | --- | --- | --- | --- | --- | --- | --- | --- |
| May 14 | | | | | | | | | | | | | 10 | 11 | 12 | 13 | 14 | 15 | 16 | 17 | 18 | 19 | 20 | 21 | 22 | 23 | 24 | 25 | 26 | 27 | 28 | 29 | 30 | 31 | | | |
| Jun 14 | | | | | | | 1 | 2 | 3 | 4 | 5 | 6 | 7 | 8 | 9 | 10 | 11 | 12 | 13 | 14 | 15 | 16 | 17 | 18 | 19 | 20 | 21 | 22 | 23 | 24 | 25 | 26 | 27 | X | X | X | |
| Jul 14 | | X | X | X | X | X | X | X | X | X | X | X | X | X | X | X | X | X | X | X | X | X | X | X | X | X | X | X | X | X | X | X | | | | | |
| Aug 14 | | | | | X | X | X | X | X | X | X | X | X | X | X | X | X | X | X | X | X | X | X | X | X | X | X | X | X | X | X | X | X | X | X | | |
| Sep 14 | X | X | X | 4 | 5 | 6 | 7 | 8 | 9 | 10 | 11 | 12 | 13 | 14 | 15 | 16 | 17 | 18 | 19 | 20 | 21 | 22 | 23 | 24 | 25 | 26 | 27 | 28 | 29 | 30 | | | | | | | |
| Oct 14 | | | 1 | 2 | 3 | 4 | 5 | 6 | 7 | 8 | 9 | 10 | 11 | 12 | 13 | 14 | 15 | 16 | 17 | 18 | 19 | 20 | 21 | 22 | 23 | 24 | 25 | 26 | 27 | 28 | 29 | 30 | 31 | | | | |
| Nov 14 | | | | | | 1 | 2 | 3 | 4 | 5 | 6 | 7 | 8 | 9 | 10 | 11 | 12 | 13 | 14 | 15 | 16 | 17 | 18 | 19 | 20 | 21 | 22 | 23 | 24 | 25 | 26 | 27 | 28 | | | | |
| | | | | | |
| --- | --- | --- | --- | --- | --- |
| 995 / week | | 850 / week | | 695 / week | |
| | | | | | |
What's included
Exclusive use of the property and its facilities
All linen including towels (1 per person)
Local tourist taxes

What's not included
Travel to and from Chamonix
Airport transfers can be arranged
End of stay cleaning

NB
Prices are for self-catered accommodation
Bookings are taken from Saturday to Saturday although there may be flexibility in low season
Security Deposit payable
Dates shown indicate date of arrival (after 5pm), departure before 10am
Arrivals after 7.30pm incur a €20 surcharge, after 11.30pm €50
Fee of 0.8% applicable to all card payments
Pets are not allowed at this property
Winter 2013/2014 season
- all prices quoted in
EUROS
2013
2014
M
T
W
T
F
S
S
M
T
W
T
F
S
S
M
T
W
T
F
S
S
M
T
W
T
F
S
S
M
T
W
T
F
S
S
M
T
Nov 13
30
Dec 13
1
2
3
4
5
6
7
8
9
10
11
12
13
14
15
16
17
18
19
20
X
X
X
X
X
X
X
X
X
X
X
Jan 14
X
X
X
X
X
X
X
X
X
X
11
12
13
14
15
16
17
18
19
20
21
22
X
X
X
X
X
X
X
30
31
Feb 14
1
2
3
4
5
6
7
8
9
10
11
12
13
14
X
X
X
X
X
X
X
22
23
24
25
26
27
28
Mar 14
1
2
3
4
5
6
7
8
9
10
11
12
13
14
15
16
17
18
19
20
21
22
23
24
25
26
27
28
29
30
31
Apr 14
1
2
3
4
5
6
7
8
9
10
11
12
13
14
15
16
17
18
19
20
21
22
23
24
25
26
27
28
29
30
May 14
1
2
3
4
5
6
7
8
9
| | | | | | | | | | | | |
| --- | --- | --- | --- | --- | --- | --- | --- | --- | --- | --- | --- |
| 1350 / week | | 1200 / week | | 950 / week | | 850 / week | | 750 / week | | 700 / week | |
| | | | | | | | | | | | |
Summer 2014 season
- all prices quoted in
EUROS
| 2014 | M | T | W | T | F | S | S | M | T | W | T | F | S | S | M | T | W | T | F | S | S | M | T | W | T | F | S | S | M | T | W | T | F | S | S | M | T |
| --- | --- | --- | --- | --- | --- | --- | --- | --- | --- | --- | --- | --- | --- | --- | --- | --- | --- | --- | --- | --- | --- | --- | --- | --- | --- | --- | --- | --- | --- | --- | --- | --- | --- | --- | --- | --- | --- |
| May 14 | | | | | | | | | | | | | 10 | 11 | 12 | 13 | 14 | 15 | 16 | 17 | 18 | 19 | 20 | 21 | 22 | 23 | 24 | 25 | 26 | 27 | 28 | 29 | 30 | 31 | | | |
| Jun 14 | | | | | | | 1 | 2 | 3 | 4 | 5 | 6 | 7 | 8 | 9 | 10 | 11 | 12 | 13 | 14 | 15 | 16 | 17 | 18 | 19 | 20 | 21 | 22 | 23 | 24 | 25 | 26 | 27 | X | X | X | |
| Jul 14 | | X | X | X | X | X | X | X | X | X | X | X | X | X | X | X | X | X | X | X | X | X | X | X | X | X | X | X | X | X | X | X | | | | | |
| Aug 14 | | | | | X | X | X | X | X | X | X | X | X | X | X | X | X | X | X | X | X | X | X | X | X | X | X | X | X | X | X | X | X | X | X | | |
| Sep 14 | X | X | X | 4 | 5 | 6 | 7 | 8 | 9 | 10 | 11 | 12 | 13 | 14 | 15 | 16 | 17 | 18 | 19 | 20 | 21 | 22 | 23 | 24 | 25 | 26 | 27 | 28 | 29 | 30 | | | | | | | |
| Oct 14 | | | 1 | 2 | 3 | 4 | 5 | 6 | 7 | 8 | 9 | 10 | 11 | 12 | 13 | 14 | 15 | 16 | 17 | 18 | 19 | 20 | 21 | 22 | 23 | 24 | 25 | 26 | 27 | 28 | 29 | 30 | 31 | | | | |
| Nov 14 | | | | | | 1 | 2 | 3 | 4 | 5 | 6 | 7 | 8 | 9 | 10 | 11 | 12 | 13 | 14 | 15 | 16 | 17 | 18 | 19 | 20 | 21 | 22 | 23 | 24 | 25 | 26 | 27 | 28 | | | | |
| | | | | | |
| --- | --- | --- | --- | --- | --- |
| 995 / week | | 850 / week | | 695 / week | |
| | | | | | |
What's included
Exclusive use of the property and its facilities
All linen including towels (1 per person)
Local tourist taxes

What's not included
Travel to and from Chamonix
Airport transfers can be arranged
End of stay cleaning

NB
Prices are for self-catered accommodation
Bookings are taken from Saturday to Saturday although there may be flexibility in low season
Security Deposit payable
Dates shown indicate date of arrival (after 5pm), departure before 10am
Arrivals after 7.30pm incur a €20 surcharge, after 11.30pm €50
Fee of 0.8% applicable to all card payments
Pets are not allowed at this property