Summary
Type: Apartment
Sleeps: 2 / 3
Bedrooms: 1
Bathrooms: 1
WCs: 1
Surface Area: 36m²
Facilities
Media / Audio Visual
Free WiFi
UK TV
French TV
DVD player
iPod dock
Outdoor & Parking
Balcony
Outdoor furniture
Covered parking
Kitchen & Laundry
Full-size oven
Microwave
Fridge
Washing machine
Coffee machine
Iron & Board
Equipment Storage
Other
Mont Blanc view
Car - Unnecessary
Lift
Hair dryer
Make an enquiry
360° Tour
Floorplan
Apartment d'Aiguille is a light and airy duplex property with a savoyard feel overlooking the Aiguille du Midi cable car. Situated in Chamonix Sud this apartment is close to shops, bars and restaurants as well as being just a 5 minute walk from the centre of town. The main bus stop is a 2 min walk with services to all the lift stations and villages in the valley. The balcony with dining furniture has uninterrupted views of the Aiguille du Midi & towards Mont Blanc.
Key Features
Spacious covered balcony with outdoor furniture and fantastic views
Great entertainment facilities with Free WiFi, UK Freesat TV, DVD Player and iPod dock
Washing machine so you can pack lightly, especially for longer stays
Ski locker at entrance level and lift access to apartment and parking
Free access to underground car park - unallocated parking for one car - maximum height 1.85m
Available for winter season lets
Bedrooms
The apartment sleeps up to 3 people and has 1 bedroom and a sofabed. There is a maximum of 2 separate beds available, configured as follows:
Bedroom: Double bed with en-suite bathroom with WC
Living area: Sofa with pull-out single bed
Our Opinion
This property is ideal for a couple who are looking for a fully equipped apartment with outside space and within easy walking distance of all local amenities. The balcony is a great place to enjoy a morning coffee or an alfresco dinner. Apartment d'Aiguille also appeals to experienced skiers, snowboarders and mountaineers who want to maximise their time in the mountains due to its proximity to the Aiguille du Midi cable car.
Location
Apartment Aiguille is aptly named as it looks over the famous Aiguille du Midi cable car, just to the south of Chamonix town centre. The Aiguille du Midi is open almost all year round, giving access to the legendary Vallee Blanche off-piste ski run in winter and to countless Alpine hiking and climbing routes in summer. Apartment Aiguille is very conveniently situated in "Chamonix Sud", where a small but lively collection of shops, bars and restaurants line a sunny pedestrianised square. If you are looking for more nightlife, apres-ski or dining options then there are lots more bars and restaurants in Chamonix town centre, which is just 3 minutes walk. The main bus station is close by, giving easy access to all the Chamonix ski areas. The nearest pisted ski slopes are at Le Brevent, just a few minutes ride away. Public transport in Chamonix is free of charge with your "carte d'hôte" guest card, given to you when you check in.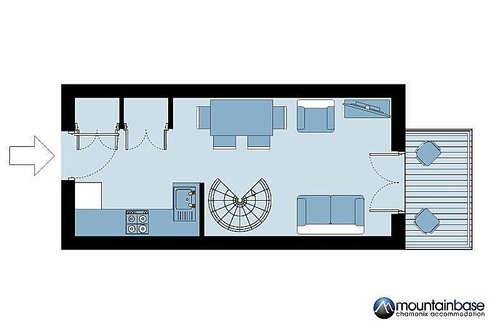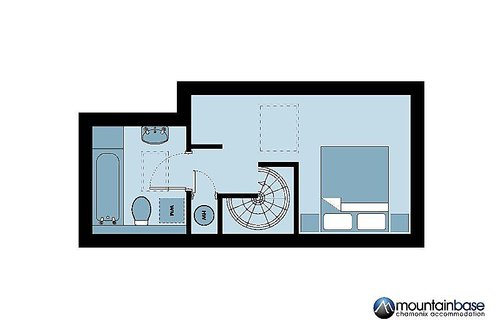 4th floor (lower level) Entry area with large storage cupboards including area for skis and snowboards. Open plan kitchen area, dining and living area opening onto south-facing balcony with Mont Blanc view. Spiral staircase leads to the upper level. 5th floor (upper level) Bedroom with double bed, storage cupboards and Velux window. Bathroom with bath (shower above), basin, WC and washing machine.
What's Included
Exclusive use of the property and its facilities
Welcome on arrival and in-resort presence for assistance
Bed linen as per selected beds
1 bath towel per person
1 hand towels, 1 bath mat, 2 tea towels
Cleaning products, bin bags, washing up liquid & sponge, Salt & Pepper, 1 toilet roll, 1 hand soap
1 Hair dryer
WiFi
Parking
End of stay cleaning
Local tourist taxes
Carte d'hote (free bus & train pass) per person
Additional services we can organise on your behalf:
Airport transfers & in-resort taxi/shuttle service
Welcome food packs
Delivery of bread & breakfast pastries and pre-prepared meals
Childcare and cot & high-chair rentals
Additional cleaning and linen services
Spas and pampering
Lift passes, delivered to the property on arrival
Equipment hire including skis, snowboards and mountain bikes
Ski and snowboard lessons
Mountain guides
Winter activities: cross country skiing, helicopter tours, heli skiing, husky rides, ice climbing, paragliding, mountain safety courses etc
Summer activities: canoeing, canyoning, hiking, golf, horse riding, Mont Blanc, mountain biking, mountaineering, rock climbing, paragliding, trail running, white water rafting etc
"Great views & location, would recommend this apartment. It's my 3rd time staying with Mountain Base, always great service and easy booking. Thanks"
A. Duxbury

"We've had a lovely week in Chamonix. The apartment has been a terrific base. Thank you for your help and communication all really appreciated. Very happy to recommend Mountain Base."
A&H Tomlinson

"We had a wonderful holiday in apartment Aiguille! Thanks. We will definitely come again!"
K. Choi

"We have used Mountain Base to book our last three holidays in the Chamonix Valley, staying at Chamois Blanc on the first occasion, and Apartment d'Aiguille for the last two. We have found the staff to be friendly, helpful and knowledgeable about the area, providing maps and information about local facilities and tours. We would certainly book with them again for future visits to Chamonix"
T. Hird

"Accommodation with everything you need, perfect location, guest card is nice bonus, friendly host !"
A. Jones
Price & Availability Overview
To calculate the price of your stay use the 'Check-in - Check-out' date picker above
A discount of 10% applies to 6 nights and 20% to 7 + nights
Short stays priced at a minimum of 4 nights.
December 2018

Mon
Tue
Wed
Thu
Fri
Sat
Sun

X

X

X

X

X

X

X

X

X

X

X

X

X

X

X

X

X

X

X

X

X

X

X

X

X

X

X

X

X

X

X
January 2019

Mon
Tue
Wed
Thu
Fri
Sat
Sun

X

X

X

X

X

X

X

X

X

X

X

X

X

X

X

X

X

X

X

X

X

X

X

X

X

X

X

X

X

X

X
February 2019

Mon
Tue
Wed
Thu
Fri
Sat
Sun

X

X

X

X

X

X

X

X

X

X

X

X

X

X

X

X

X

X

X

X

X

X

X

X

X

X

X

X
March 2019

Mon
Tue
Wed
Thu
Fri
Sat
Sun

X

X

X

X

X

X

X

X

X

X

X

X

X

X

X

X

X

X

X

X

X

X

X

X

X

X

X

X

X

X

X
April 2019

Mon
Tue
Wed
Thu
Fri
Sat
Sun

X

X

X

X

X

X

X

X

X

X

X

X

X

X

X

X

X

X

X

X

X

X

X

X

X

X

X

X

X

X
May 2019

Mon
Tue
Wed
Thu
Fri
Sat
Sun

1

2

3

4

5

6

7

8

9

10

11

12

13

14

15

16

17

18

19

20

21

22

23

24

25

26

27

28

29

30

31
June 2019

Mon
Tue
Wed
Thu
Fri
Sat
Sun

1

2

3

4

5

6

7

8

9

10

11

12

13

14

15

16

17

18

19

20

21

22

23

24

25

26

27

X

X

X
July 2019

Mon
Tue
Wed
Thu
Fri
Sat
Sun

X

X

3

4

5

6

7

8

9

10

11

12

13

14

15

16

17

18

19

20

21

22

23

24

25

26

X

X

X

X

X
August 2019

Mon
Tue
Wed
Thu
Fri
Sat
Sun

X

X

3

4

5

6

7

8

9

10

11

12

13

14

15

16

17

18

19

20

21

22

23

24

25

26

27

28

29

30

31
September 2019

Mon
Tue
Wed
Thu
Fri
Sat
Sun

1

2

3

4

5

6

7

8

9

10

11

12

13

14

15

16

17

18

19

20

X

X

X

X

X

X

X

28

29

30
October 2019

Mon
Tue
Wed
Thu
Fri
Sat
Sun

1

2

3

4

5

6

7

8

9

10

11

12

13

14

15

16

17

18

19

20

21

22

23

24

25

26

27

28

29

30

31
November 2019

Mon
Tue
Wed
Thu
Fri
Sat
Sun

1

2

3

4

5

6

7

8

9

10

11

12

13

14

15

16

17

18

19

20

21

22

23

24

25

26

27

28

29

30
December 2019

Mon
Tue
Wed
Thu
Fri
Sat
Sun

X

X

X

X

X

X

X

X

X

X

X

X

X

X

X

X

X

X

X

X

X

X

X

X

X

X

X

X

X

X

X
January 2020

Mon
Tue
Wed
Thu
Fri
Sat
Sun

X

X

X

X

X

X

X

X

X

X

X

X

X

X

X

X

X

X

X

X

X

X

X

X

X

X

X

X

X

X

X
February 2020

Mon
Tue
Wed
Thu
Fri
Sat
Sun

X

X

X

X

X

X

X

X

X

X

X

X

X

X

X

X

X

X

X

X

X

X

X

X

X

X

X

X

X
March 2020

Mon
Tue
Wed
Thu
Fri
Sat
Sun

X

X

X

X

X

X

X

X

X

X

X

X

X

X

X

X

X

X

X

X

X

X

X

X

X

X

X

X

X

X

X
April 2020

Mon
Tue
Wed
Thu
Fri
Sat
Sun

X

X

X

X

X

X

X

X

X

X

X

X

X

X

X

X

X

X

X

X

X

X

X

X

X

X

X

X

X

X
Summer 2019
€70.00 / night
€80.00 / night
€100.00 / night
€110.00 / night
€120.00 / night
X Booked
---