Summary
Type: Chalet
Sleeps: 8
Bedrooms: 4
Bathrooms: 4
WCs: 5
Facilities
Wellness & Relaxation
Hot tub
Sauna
Log fireplace
TV room
Table Tennis
Media / Audio Visual
Free WiFi
UK TV
French TV
DVD player
Music speaker
PlayStation
Outdoor & Parking
BBQ in summer
Garden
Terrace
Outdoor furniture
Exterior parking
Kitchen & Laundry
Full-size oven
Microwave
Fridge
Dishwasher
Washing machine
Equipment Storage
Other
Mont Blanc view
Car - Necessary
Hair dryers
Make an enquiry
Virtual Tour
Layout
Chalet les Drus combines modern construction with alpine style to create a chalet with a homely, welcoming atmosphere. Situated in a peaceful residential area of Les Houches the chalet is 900 metres for town square where there is a supermarket and a number of bars and restaurants and a 5 minute drive from the Bellevue lift station. Boasting a fabulous outdoor hot-tub and sauna, this is a great option for those looking to be out of the hustle & bustle of Chamonix.
Key Features
Outdoor hot-tub and Sauna cabin where you can unwind and soothe any aching muscles
Enclosed private garden and sunny terrace with outdoor dining furniture for alfreso dining
Separate TV room and entertainment facilities including Free WiFi, UK TV, Blueray Player, iPod dock & Playstation
Wood-burning stove for atmospheric winter evenings by the fireside
Ski room where you can store all your equipment securely
Exterior off-road parking for up to two car
Bedrooms
The chalet sleeps up to 8 people in 4 bedrooms. There is a maximum of 8 separate beds available, configured as follows:
Bedroom 1: Flexible double or twin room (first floor) with en-suite shower room and WC
Bedroom 2: Flexible double or twin room (first floor) with en-suite shower room and WC
Bedroom 3: Flexible double or twin room (second floor) with en-suite bathroom and WC
Bedroom 4: Flexible double or twin room (second floor) with en-suite bathroom and WC
Our Opinion
For us this is a home from home property in a peaceful location. One of the many benefits is having a choice of living spaces - guests can relax in front of a film or get competitive on the PlayStation in the TV room and be playing table tennis in the games room without disturbing those in the open-plan main living area. As a completely flexible property (all rooms can be made up as double or twins) it is suited to all group combinations.
Location
Supermarket:
850 metres - Super U
Bus stop:
550 metres - Sainte-Antoine
Attractions & Ski Areas:
Aiguille du Midi cable car: 7 km
Montenvers / Mer de Glace Train: 7.6 km
Les Houches: 2.5 km / 5 minutes by bus
Le Brevent: 8 km / 20 minutes by bus
La Flegere: 10.5 km / 25 minutes by bus
Grands Montets: 16 km / 30 minutes by bus
Le Tour & Vallorcine: 19.3 km / 35 minutes by bus
Tourchet Nursery Slopes: 300 metres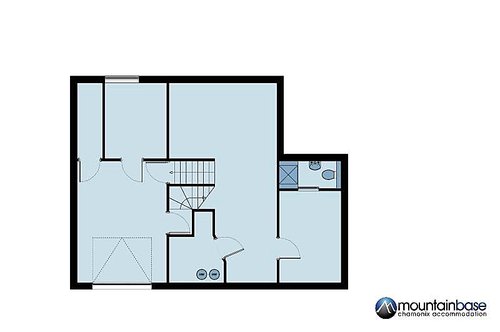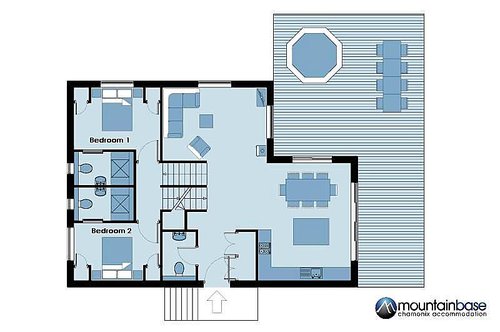 Lower Ground Integral garage and ski/equipment room. Ground Floor Entrance area with WC and cupboard for coats. This opens onto the spacious living area. There are two sets of large glass doors in the kitchen and dining area, giving access to the deck, hot tub and gardens. Also on this level, there are two flexible en-suite bedrooms. First Floor Two flexible en-suite bedrooms. In addition, there is a cosy room on the first floor with seating, TV, DVD player and Playstation .
What's Included
Exclusive use of the property and its facilities
Welcome on arrival and in-resort presence for assistance
Bed linen as per selected beds
1 bath towel and 1 hand towel per person
4 bath mats, 2 tea towels
Cleaning products, bin bags, washing up liquid & sponge, dishwasher tablets, Salt & Pepper, 5 toilet rolls, 5 hand soaps
2 Hair dryers
WiFi
Parking
Toiletries
Logs for wood burner/fireplace
End of stay cleaning
Carte d'hote (bus & train pass) per person
For bookings of 12 nights or more a mid-stay clean and linen change are included in the price. If you do not wish to be disturbed during your stay we can provide 2 sets of linen on arrival
Additional services we can organise on your behalf:
Airport transfers & in-resort taxi/shuttle service
Welcome food packs
Delivery of bread & breakfast pastries and pre-prepared meals
Catering with a private chef
Childcare and cot & high-chair rentals
Additional cleaning and linen services
Spas and pampering
Lift passes, delivered to the property on arrival
Equipment hire including skis, snowboards and mountain bikes
Ski and snowboard lessons
Mountain guides
Winter activities: cross country skiing, helicopter tours, heli skiing, husky rides, ice climbing, paragliding, mountain safety courses etc
Summer activities: canoeing, canyoning, hiking, golf, horse riding, Mont Blanc, mountain biking, mountaineering, rock climbing, paragliding, trail running, white water rafting etc
"This Chalet is just wonderful! It is big enough for a family but very cosy and clean. We enjoyed having the yard, hot tub and sauna. The main floor has heated floors with a small fire place. There are two bedrooms on the first floor and two bedrooms on the second floor and all of the bedrooms have their own bathrooms. The beds were very comfortable as well. There is a loft at the top of the chalet and a ping pong table too. The views from the chalet are amazing, you can see Aiguielle du Midi and Mount Blanc while relaxing in the hot tub! We will definitely be back!" - L. Murchison, Dec 21

"A change of scene with a view of the glaciers. We had a great weekend in a chalet that exceeded our expectations: spacious, warm and comfortable. Thanks again." - L. Rossignol, May 2021

"This chalet is perfect, very quiet at the end of an impasse, with breathtaking views of the alps including from the very nice outdoor hot tub (with sparkly clean water). Fully equipped kitchen, one shower/toilet bathroom per bedroom and two TV rooms made for a very convenient stay. Comfortable beds, heated floors, ping-pong table, too many conveniences to call out. We were there during the men's world skiing championship which added some welcome energy in the village while the chalet remained completely quiet and relaxing." - T. Paquay 2020

"This is a wonderful chalet set in the beautiful Chamonix Valley. The luxurious chalet is equipped to a high standard with a good kitchen. The hot tub and sauna are fantastic after a long day out. All bedrooms and bathrooms are very clean and smart. There is plenty of room in the chalet with a table tennis table and three televisions. We went in August to enjoy walking in the mountains, visiting glaciers as well as enjoying the warm weather and had an amazing time but always looked forward to returning to a comfortable and very homely chalet with a warming log burner." - K. Ward

"The chalet was excellent and as always the service we received from Mountain Base was great." - The Demarne Family
Price & Availability Overview
To calculate the price of your stay use the 'Check-in - Check-out' date picker above
Short stays priced at a minimum of 4 nights. A discount of 15% will be applied to 5 nights, 25% to 6 nights and 30% to 7+ nights. 5 nights minimum for Christmas OR New Year. 12 nights minimum Christmas & New Year.
NB: There is legal requirement for guests to pay a tourist tax per night. The total tax will be confirmed before completing the booking process.
September 2022

Mon
Tue
Wed
Thu
Fri
Sat
Sun

X

X

X

X

X

X

7

8

9

10

11

12

13

14

15

16

17

18

19

20

21

22

23

24

25

26

27

28

29

30
October 2022

Mon
Tue
Wed
Thu
Fri
Sat
Sun

X

X

X

X

X

X

X

X

X

X

X

X

X

X

X

X

X

X

X

X

X

X

X

X

X

X

X

X

X

X

X
November 2022

Mon
Tue
Wed
Thu
Fri
Sat
Sun

X

X

X

X

X

X

X

X

X

X

X

X

X

X

X

X

X

X

X

X

X

X

X

X

X

X

X

X

X

X
December 2022

Mon
Tue
Wed
Thu
Fri
Sat
Sun

X

X

X

X

X

X

X

X

X

X

X

X

X

X

X

X

X

X

X

X

X

X

X

X

X

X

X

X

X

X

X
January 2023

Mon
Tue
Wed
Thu
Fri
Sat
Sun

X

X

X

X

X

X

X

X

X

X

X

X

X

X

X

X

X

X

X

X

X

X

X

X

X

X

X

X

X

X

X
February 2023

Mon
Tue
Wed
Thu
Fri
Sat
Sun

X

X

X

X

X

X

X

X

X

X

X

X

X

X

X

X

X

X

X

X

X

X

X

X

X

X

X

X
March 2023

Mon
Tue
Wed
Thu
Fri
Sat
Sun

X

X

X

X

X

X

X

X

X

X

X

X

X

X

X

X

X

X

X

X

X

X

X

X

X

X

X

X

X

X

X
April 2023

Mon
Tue
Wed
Thu
Fri
Sat
Sun

X

X

X

X

X

X

X

X

X

X

X

X

X

X

X

X

X

X

X

X

X

X

X

X

X

X

X

X

X

X
May 2023

Mon
Tue
Wed
Thu
Fri
Sat
Sun

X

X

X

X

X

X

X

X

X

X

X

X

X

X

X

X

X

X

X

X

X

X

X

X

X

X

X

X

X

X

X
June 2023

Mon
Tue
Wed
Thu
Fri
Sat
Sun

X

X

X

X

X

X

X

X

X

X

X

X

X

X

X

X

X

X

X

X

X

X

X

X

X

X

X

X

X

X
July 2023

Mon
Tue
Wed
Thu
Fri
Sat
Sun

X

X

X

X

X

X

X

X

X

X

X

X

X

X

X

X

X

X

X

X

X

X

X

X

X

X

X

X

X

X

X
August 2023

Mon
Tue
Wed
Thu
Fri
Sat
Sun

X

X

X

X

X

X

X

X

X

X

X

X

X

X

X

X

X

X

X

X

X

X

X

X

X

X

X

X

X

X

X
September 2023

Mon
Tue
Wed
Thu
Fri
Sat
Sun

X

X

X

X

X

X

X

X

X

X

X

X

X

X

X

X

X

X

X

X

X

X

X

X

X

X

X

X

X

X
October 2023

Mon
Tue
Wed
Thu
Fri
Sat
Sun

X

X

X

X

X

X

X

X

X

X

X

X

X

X

X

X

X

X

X

X

X

X

X

X

X

X

X

X

X

X

X
November 2023

Mon
Tue
Wed
Thu
Fri
Sat
Sun

X

X

X

X

X

X

X

X

X

X

X

X

X

X

X

X

X

X

X

X

X

X

X

X

X

X

X

X

X

X
December 2023

Mon
Tue
Wed
Thu
Fri
Sat
Sun

X

X

X

X

X

X

X

X

X

X

X

X

X

X

X

X

X

X

X

X

X

X

X

X

X

X

X

X

X

X

X
January 2024

Mon
Tue
Wed
Thu
Fri
Sat
Sun

X

X

X

X

X

X

X

X

X

X

X

X

X

X

X

X

X

X

X

X

X

X

X

X

X

X

X

X

X

X

X
February 2024

Mon
Tue
Wed
Thu
Fri
Sat
Sun

X

X

X

X

X

X

X

X

X

X

X

X

X

X

X

X

X

X

X

X

X

X

X

X

X

X

X

X

X
March 2024

Mon
Tue
Wed
Thu
Fri
Sat
Sun

X

X

X

X

X

X

X

X

X

X

X

X

X

X

X

X

X

X

X

X

X

X

X

X

X

X

X

X

X

X

X
April 2024

Mon
Tue
Wed
Thu
Fri
Sat
Sun

X

X

X

X

X

X

X

X

X

X

X

X

X

X

X

X

X

X

X

X

X

X

X

X

X

X

X

X

X

X
Summer 2022
€450.00 / night
€490.00 / night
€545.00 / night
€595.00 / night
X Booked
Winter 2022/2023
€420.00 / night
€520.00 / night
€600.00 / night
€770.00 / night
€900.00 / night
X Booked
---