Summary
Type: Chalet
Sleeps: 10 / 14
Bedrooms: 5
Bathrooms: 5
WCs: 7
Facilities
Wellness & Relaxation
Hot tub
Log fireplace
TV room
Pool table
Media / Audio Visual
Free WiFi
UK TV
DVD player
iPod dock
PlayStation
Outdoor & Parking
BBQ in summer
Balcony
Garden
Terrace
Outdoor furniture
Covered parking
Exterior parking
Kitchen & Laundry
Full-size oven
Microwave
Fridge
Freezer
Dishwasher
Washing machine
Coffee machine
Iron & Board
Equipment Storage
Ski storage
Bike storage
Boot dryers
Other
Mont Blanc view
Car - Recommended
Hair dryer
Make an enquiry
360° Tour
Layout
Lynx is a chalet with the Wow factor. Renovated in a modern alpine style the interior uses plenty of glass to flood the property with light and take advantage of the views. Situated just 50 metres from the top of the Tourchet Nursery slope guests can ski down to the bus stop each morning (snow permitting) whilst shops, bars and restaurants are a 500 metre walk away. This chalet boasts a hot-tub, games room and wonderful peaceful location.
Key Features
Outdoor hot-tub where you unwind under the stars after a day on the mountain
Fabulous terrace with viewings of Mont Blanc, outdoor dining furniture and BBQ
Separate games room annex with pool table, football table and project screen
Wood burning stove for cosy evenings by the fireside
Exceptional entertainment facilities with Free WiFi, UK Freesat TV, iPod dock and PlayStation
Garage parking for one car (maximum height - 1.9 metres) and exterior parking for two cars
Bedrooms
The chalet sleeps up to 14 people in 5 bedrooms, a sofa bed in the living room and a sofa bed in the games room annex. There is a maximum of 12 separate beds available, configured as follows:
Bedroom 1: Flexible double or twin room (first floor) with en-suite bathroom with bath, shower and WC. The room also has a private balcony with views towards Mont Blanc.
Bedroom 2: Flexible double or twin room (first floor) with en-suite bathroom with bath, shower and WC.
Bedroom 3: Flexible double or twin room (ground floor) with en-suite shower and WC
Bedroom 4: Flexible double or twin room (lower ground floor) with en-suite shower and WC and garden access through French windows
Bedroom 5: Flexible double or twin room (lower ground floor) with en-suite shower and WC and garden access through French windows
Living room: Double sofa bed
Games Room Annex: Double sofa bed and separate WC
Our Opinion
If you haven't already, it is worth viewing our 360 tour to get a real feel for this wonderful chalet. This property has certainly been well thought out and provides stylish, contemporary accommodation. It is particularly light and spacious with good size living spaces that includes the games room annex. Chalet Lynx is particularly popular because it offers ultimate flexibility; all bedrooms can be prepared as twins or doubles and they are all en-suite. This property is ideally suited to large groups of family or friends who want a peaceful location within easy walking distance of local amenities.
Location
Chalet Lynx is situated just to the north-east of the centre of les Houches (500 metres by foot). It is situated in a quiet, mainly residential area off Route de la Griaz. The nearest supermarket is Carrefour in the town centre, as well as one of the largest supermarket in the Valley (Super U) a 10 minute walk away. The nearest bars and restaurants of note are le Delice and Kitsch Inn, with several other choices in les Houches. The centre of Chamonix, with many other possibilities, is a 10 minute drive away. For access to the slopes, it is recommended to have a car for ultimate flexibility. The nearest (free) bus stop is 400 metres away on avenue des Alpages. The Tourchet beginner slope is right next door to the chalet so it is possible to ski down this run from just outside the chalet to access the bus stop opposite, and with an MBU lift pass you can take the drag lift back up towards the chalet at the end of the day. The nearest ski area is 2 minutes by car at Bellevue in les Houches. The other ski areas in the valley are between 10 and 20 minutes drive.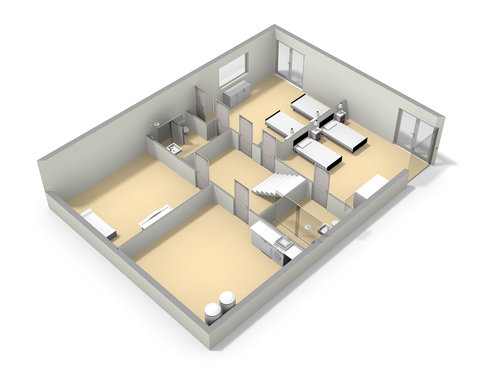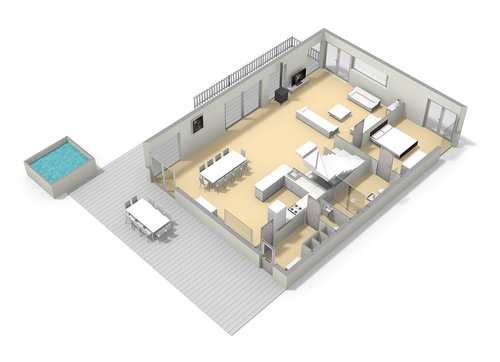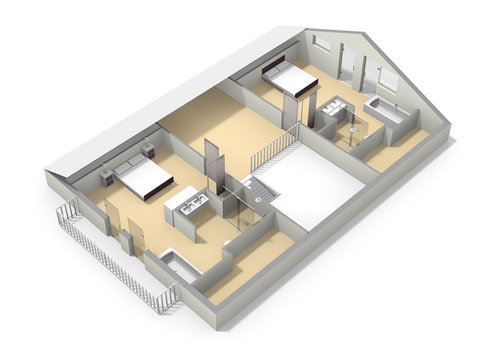 To view the 2D floorplan and see bedroom layout, please click here. You can also view the floorplan in Interactive 3D by then clicking on "3D" at the top right of the webpage.
What's Included
Exclusive use of the property and its facilities
Access via keybox (flexible arrival times)
Bed linen as per selected beds
1 bath towel and 1 hand towel per person
5 bath mats, 3 tea towels
Cleaning products, bin bags, washing up liquid & sponge, dishwasher tablets, Salt & Pepper, 2 toilet rolls per WC, 5 hand soaps
2 Hair dryers
WiFi
Hot-stone Raclette
High chairs & cots
Parking
Logs for wood burner/fireplace
Hot-tub maintenance
Snow clearance
End of stay cleaning
Carte d'hote (bus & train pass) per person
Additional services we can organise on your behalf:
Airport transfers & in-resort taxi/shuttle service
Welcome food packs
Delivery of pre-prepared meals
Catering with a private chef
Additional cleaning and linen services
Spas and pampering
Equipment hire including skis, snowboards and mountain bikes
Ski and snowboard lessons
Mountain guides
Winter activities: cross country skiing, helicopter tours, heli skiing, husky rides, ice climbing, paragliding, mountain safety courses etc
Summer activities: canoeing, canyoning, hiking, golf, horse riding, Mont Blanc, mountain biking, mountaineering, rock climbing, paragliding, trail running, white water rafting etc
Price & Availability Overview
To calculate the price of your stay use the 'Check-in - Check-out' date picker above
A discount of 10% applies to 6 nights and 20% to 7 + nights. Short stays priced at a minimum of 4 nights.
NB: There is legal requirement for guests to pay a tourist tax per night. The total tax will be confirmed before completing the booking process.
February 2019

Mon
Tue
Wed
Thu
Fri
Sat
Sun

X

X

X

4

5

6

7

X

X

X

X

X

X

14

15

X

X

X

X

X

X

X

X

X

X

X

X

X
March 2019

Mon
Tue
Wed
Thu
Fri
Sat
Sun

X

X

X

X

X

X

X

X

X

X

X

X

X

X

X

X

X

X

X

X

X

X

23

24

25

26

27

28

29

X

X
April 2019

Mon
Tue
Wed
Thu
Fri
Sat
Sun

X

X

X

X

X

X

X

X

X

X

X

X

13

14

15

16

17

18

19

20

21

22

23

24

25

26

27

28

29

30
May 2019

Mon
Tue
Wed
Thu
Fri
Sat
Sun

1

2

3

4

5

6

7

8

9

10

X

X

13

14

15

16

17

18

19

20

21

22

23

24

25

26

27

28

29

30

31
June 2019

Mon
Tue
Wed
Thu
Fri
Sat
Sun

1

2

3

4

5

6

7

8

9

10

11

12

13

14

15

16

17

18

19

20

21

22

23

24

25

26

27

28

X

X
July 2019

Mon
Tue
Wed
Thu
Fri
Sat
Sun

X

X

X

X

X

6

7

8

9

10

11

12

13

14

15

16

17

18

19

X

X

X

X

X

X

X

X

X

X

X

X
August 2019

Mon
Tue
Wed
Thu
Fri
Sat
Sun

X

X

X

X

X

X

X

X

X

10

11

12

13

14

X

X

X

X

X

X

X

X

X

24

25

X

X

X

X

X

X
September 2019

Mon
Tue
Wed
Thu
Fri
Sat
Sun

1

2

3

4

5

6

7

8

9

10

11

12

13

14

15

16

17

18

19

20

21

22

23

24

25

26

27

28

29

30
October 2019

Mon
Tue
Wed
Thu
Fri
Sat
Sun

1

2

3

4

5

6

7

8

9

10

11

12

13

14

15

16

17

18

19

20

21

22

23

24

25

26

27

28

29

30

31
November 2019

Mon
Tue
Wed
Thu
Fri
Sat
Sun

1

2

3

4

5

6

7

8

9

10

11

12

13

14

15

16

17

18

19

20

21

22

23

24

25

26

27

28

29

30
December 2019

Mon
Tue
Wed
Thu
Fri
Sat
Sun

1

2

3

4

5

6

7

8

9

10

11

12

13

14

15

16

17

18

19

20

21

22

23

24

25

26

27

28

29

30

31
January 2020

Mon
Tue
Wed
Thu
Fri
Sat
Sun

1

2

3

4

5

6

7

8

9

10

11

12

13

14

15

16

17

18

19

20

21

22

23

24

25

26

27

28

29

30

31
February 2020

Mon
Tue
Wed
Thu
Fri
Sat
Sun

1

2

3

4

5

6

7

8

9

10

11

12

13

14

15

16

17

18

19

20

21

22

23

24

25

26

27

28

29
March 2020

Mon
Tue
Wed
Thu
Fri
Sat
Sun

1

2

3

4

5

6

7

8

9

10

11

12

13

14

15

16

17

18

19

20

21

22

23

24

25

26

27

28

29

30

31
April 2020

Mon
Tue
Wed
Thu
Fri
Sat
Sun

1

2

3

4

5

6

7

8

9

10

11

12

13

14

15

16

17

18

19

20

21

22

23

24

25

26

27

28

29

30
May 2020

Mon
Tue
Wed
Thu
Fri
Sat
Sun

1

2

3

4

5

6

7

8

9

10

11

12

13

14

15

16

17

18

19

20

21

22

23

24

25

26

27

28

29

30

31
June 2020

Mon
Tue
Wed
Thu
Fri
Sat
Sun

1

2

3

4

5

6

7

8

9

10

11

12

13

14

15

16

17

18

19

20

21

22

23

24

25

26

27

28

29

30
July 2020

Mon
Tue
Wed
Thu
Fri
Sat
Sun

1

2

3

4

5

6

7

8

9

10

11

12

13

14

15

16

17

18

19

20

21

22

23

24

25

26

27

28

29

30

31
August 2020

Mon
Tue
Wed
Thu
Fri
Sat
Sun

1

2

3

4

5

6

7

8

9

10

11

12

13

14

15

16

17

18

19

20

21

22

23

24

25

26

27

28

29

30

31
September 2020

Mon
Tue
Wed
Thu
Fri
Sat
Sun

1

2

3

4

5

6

7

8

9

10

11

12

13

14

15

16

17

18

19

20

21

22

23

24

25

26

27

28

29

30
October 2020

Mon
Tue
Wed
Thu
Fri
Sat
Sun

1

2

3

4

5

6

7

8

9

10

11

12

13

14

15

16

17

18

19

20

21

22

23

24

25

26

27

28

29

30

31
November 2020

Mon
Tue
Wed
Thu
Fri
Sat
Sun

1

2

3

4

5

6

7

8

9

10

11

12

13

14

15

16

17

18

19

20

21

22

23

24

25

26

27

28

29

30
Winter 2018/2019
€440.00 / night
€570.00 / night
€695.00 / night
€900.00 / night
€1030.00 / night
X Booked
Summer 2019
€295.00 / night
€340.00 / night
€380.00 / night
€440.00 / night
X Booked
Winter 2019/2020
€440.00 / night
€570.00 / night
€695.00 / night
€900.00 / night
€1030.00 / night
X Booked
Summer 2020
€295.00 / night
€340.00 / night
€380.00 / night
€440.00 / night
X Booked
---