Summary
Type: Chalet
Sleeps: 10 / 12
Bedrooms: 6
Bathrooms: 4
WCs: 5
Surface Area: 210m²
Facilities
Wellness & Relaxation
Media / Audio Visual
Free WiFi
UK TV
DVD player
iPod dock
Outdoor & Parking
BBQ in summer
Balcony
Garden
Terrace
Outdoor furniture
Exterior parking
Kitchen & Laundry
Full-size oven
Microwave
Fridge
Freezer
Dishwasher
Washing machine
Tumble dryer
Iron & Board
Equipment Storage
Other
Car - Recommended
Hair dryer
Make an enquiry
Layout
l'Outa is a charming rustic chalet with a contemporary alpine interior. Situated in La Joux, a secluded hamlet 10-15 minutes drive from Chamonix, the chalet offers privacy yet access to the town as well as local lift stations. Surrounded by stunning landscapes with views towards Les Drus this property is the perfect option for those looking for a rural mountain retreat.
Key Features
Sunken hot-tub on the elevated deck with views towards Les Drus
Spacious deck and garden with outdoor dining furniture so you can enjoy your meals alfresco in the summer
Studio apartment within the chalet offering a separate living space if required
Stylish wood-burning stove for atmospheric winter evenings
Entertainment facilities with Free WiFi, UK TV, DVD player and iPod dock
There are two exterior parking spaces available at the chalet*
Bedrooms
The chalet sleeps up to 12 people in 4 bedrooms. There is a maximum of 9 separate beds available, configured as follows:
Bedroom 1: Double room (ground floor) with en-suite bathroom with WC and access onto the deck
Bedroom 2: Bunk-bed room (ground floor) adjacent to bedroom 1 and also accessed via an en-suite shower room with WC shared with bedroom 3
Bedroom 3: Twin room (ground floor) with access to a separate shower room shared with bedroom 2
Bedroom 4: Double room (second floor) with private balcony and access to a shared shower room & WC
Bedroom 5: Twin room (second floor) with access to a shared shower room & WC
Bedroom 6: Studio (first floor) with double bed, bathroom with WC, kitchenette and sitting area.
Our Opinion
This chalet certainly has a smart feel, evident from the quality furnishings used to create a high standard finish. La Joux also benefits from easy access to both the lift stations and Chamonix via road or the valley's train service (local station just a 4 minute walk from the chalet). Although the chalet suits multiple group types, we find that the location and bedroom layout make it a popular choice for families.
*Please note the hamlet of Le Joux is accessed via a tunnel 1.98m wide. There is unallocated parking available a short walk away from the chalet if the tunnel is not passable.
Location
Chalet l'Outa is nestled in the sunny hamlet of la Joux between les Tines and Argentière, up the Valley from Chamonix itself. The privacy and serenity of the location and the views from the hot tub will make it an unforgettable après skiing experience. Chalet l'Outa is the perfect retreat for up to 10 searching for a stunning chalet in an exclusive, peaceful location. The nearest supermarket, restaurants and bars are in Argentiere, to the north-east of la Joux (5 minutes by car). Chamonix and the many facilities that the town has to offer are 6 kms away, just under 10 minutes by car. For access to the slopes, Chalet l'Outa is just over 2 kms (3 minute drive) from the Chamonix Valley's most famous ski area, les Grands Montets. It is also just 3.5 kms (4 minute drive) from from la Flégère ski area, which is in turn linked to the Brévent ski area. Both ski areas, as well as le Tour via Vallorcine, are easily reached by the local train, which can be caught near the chalet. Please note, la Joux is accessed via a narrow bridge which large vehicles/minibuses will not pass through. There is parking 100 metres from the chalet otherwise.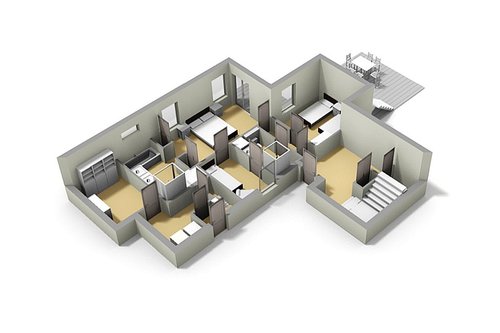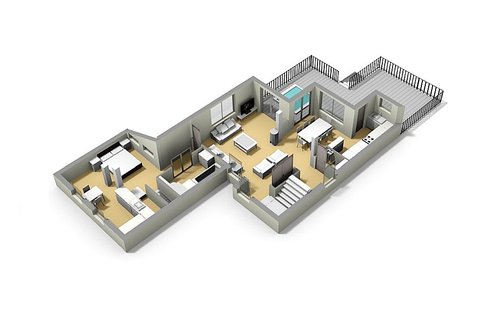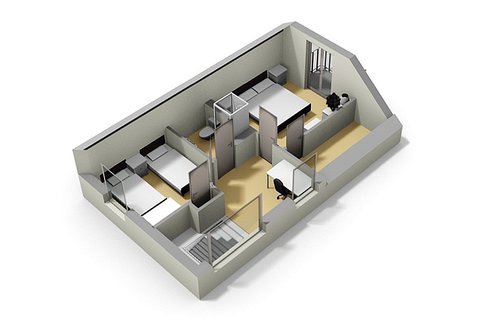 To view the 3D interactive floorplan, please click on the link below and select "3D" at the top right of the webpage: Interactive floor plan Lower Floor The entrance to the chalet leads into a reception hallway. There is a double bedroom with an en-suite bathroom. A glass door from this bedroom opens onto the lower deck and steps up to the main deck. A children's room with bunk beds is accessed through an adjoining door. Also at this level is a twin bedroom with an adjacent shower room, laundry room and a separate ski room with boot dryers. Main Floor Open-plan living area with log burner, modern kitchen and dining table. Glass doors from this living area lead out onto the main deck which has a sunken hot tub fantastic mountain views. The living area also leads to a self-contained studio apartment with a double bed, kitchenette and bathroom. Upper Floor The upper floor has a study area on the landing. There is a double bedroom with a little balcony, a twin bedroom and a shower room.
What's Included
Exclusive use of the property and its facilities
Welcome on arrival and in-resort presence for assistance (NB. Self-check-in is an option after 19:00 otherwise a late check-in fee applies)
Bed linen as per selected beds
1 bath towel, 1 hand towel and 1 bathrobe per person.
5 hand towels, 4 bath mats, 2 tea towels
Cleaning products, bin bags, washing up liquid & sponge, dishwasher tablets, Salt & Pepper, 5 toilet rolls, 4 hand soaps
4 Hair dryers
WiFi
Parking
Logs for wood burner/fireplace
Hot-tub maintenance
Snow clearance
End of stay cleaning
Carte d'hote (bus & train pass) per person
Additional services we can organise on your behalf:
Airport transfers & in-resort taxi/shuttle service
Welcome food packs
Delivery of bread & breakfast pastries and pre-prepared meals
Catering with a private chef
Childcare and cot & high-chair rentals
Additional cleaning and linen services
Spas and pampering
Lift passes, delivered to the property on arrival
Equipment hire including skis, snowboards and mountain bikes
Ski and snowboard lessons
Mountain guides
Winter activities: cross country skiing, helicopter tours, heli skiing, husky rides, ice climbing, paragliding, ice climbing, mountain safety courses etc
Summer activities: canoeing, canyoning, hiking, golf, horse riding, Mont Blanc, mountain biking, mountaineering, rock climbing, paragliding, trail running, white water rafting etc
"We loved Chalet L'Outa with the fantastic views and comfortable living space and amazing outside jacuzzi. What could be more magical than coming back from glorious skiing in the sun followed by a hot bath at dusk with the snow falling gently all around!"
The Blatt Family

"We can't recommend Mountain Base highly enough. All staff are great and always go that extra mile to help make sure your stay is more enjoyable. We wouldn't dream of going anywhere else!"
Simply Solutions

"We have used Mountain Base chalets for our clients for a number of years. The team have always provided outstanding levels of customer service in terms of answering questions, fulfilling our chalet requirements, flexibility around booking to suit us, and ensuring presentation of chalets to a top level. I would highly recommend Mountain Base to family and corporate clients without any hesitation"
Hardcross CHX

Price & Availability Overview
To calculate the price of your stay use the 'Check-in - Check-out' date picker above
A discount of 10% applies to 6 nights and 20% to 7 + nights. Short stays priced at a minimum of 4 nights. 5 nights minimum during the Christmas period (12 nights Christmas & New Year)
NB: There is legal requirement for guests to pay a tourist tax per night. The total tax will be confirmed before completing the booking process.
December 2020

Mon
Tue
Wed
Thu
Fri
Sat
Sun

1

2

3

4

5

6

7

8

9

10

11

12

13

14

15

16

17

18

19

20

21

22

23

24

25

26

27

28

29

30

31
January 2021

Mon
Tue
Wed
Thu
Fri
Sat
Sun

1

2

3

4

5

6

7

8

9

10

11

12

13

14

15

16

17

18

19

20

21

22

23

24

25

26

27

28

29

30

31
February 2021

| Mon | Tue | Wed | Thu | Fri | Sat | Sun |
| --- | --- | --- | --- | --- | --- | --- |
| 1 | 2 | 3 | 4 | 5 | 6 | 7 |
| 8 | 9 | 10 | 11 | 12 | 13 | 14 |
| 15 | 16 | 17 | 18 | 19 | 20 | 21 |
| 22 | 23 | 24 | 25 | 26 | 27 | 28 |
March 2021

Mon
Tue
Wed
Thu
Fri
Sat
Sun

1

2

3

4

5

6

7

8

9

10

11

12

13

14

15

16

17

18

19

20

21

22

23

24

25

26

27

28

29

30

31
April 2021

Mon
Tue
Wed
Thu
Fri
Sat
Sun

1

2

3

4

5

6

7

8

9

10

11

12

13

14

15

16

17

18

19

20

21

22

23

24

25

26

27

28

29

30
May 2021

Mon
Tue
Wed
Thu
Fri
Sat
Sun

1

2

3

4

5

6

7

8

9

10

11

12

13

14

15

16

17

18

19

20

21

22

23

24

25

26

27

28

29

30

31
June 2021

Mon
Tue
Wed
Thu
Fri
Sat
Sun

1

2

3

4

5

6

7

8

9

10

11

12

13

14

15

16

17

18

19

20

21

22

23

24

25

26

27

28

29

30
July 2021

Mon
Tue
Wed
Thu
Fri
Sat
Sun

1

2

3

4

5

6

7

8

9

10

11

12

13

14

15

16

17

18

19

20

21

22

23

24

25

26

27

28

29

30

31
August 2021

Mon
Tue
Wed
Thu
Fri
Sat
Sun

1

2

3

4

5

6

7

8

9

10

11

12

13

14

15

16

17

18

19

20

21

22

23

24

25

26

27

28

29

30

31
September 2021

Mon
Tue
Wed
Thu
Fri
Sat
Sun

1

2

3

4

5

6

7

8

9

10

11

12

13

14

15

16

17

18

19

20

21

22

23

24

25

26

27

28

29

30
October 2021

Mon
Tue
Wed
Thu
Fri
Sat
Sun

1

2

3

4

5

6

7

8

9

10

11

12

13

14

15

16

17

18

19

20

21

22

23

24

25

26

27

28

29

30

31
November 2021

Mon
Tue
Wed
Thu
Fri
Sat
Sun

1

2

3

4

5

6

7

8

9

10

11

12

13

14

15

16

17

18

19

20

21

22

23

24

25

26

27

28

29

30
December 2021

Mon
Tue
Wed
Thu
Fri
Sat
Sun

1

2

3

4

5

6

7

8

9

10

11

12

13

14

15

16

17

18

19

20

21

22

23

24

25

26

27

28

29

30

31
January 2022

Mon
Tue
Wed
Thu
Fri
Sat
Sun

1

2

3

4

5

6

7

8

9

10

11

12

13

14

15

16

17

18

19

20

21

22

23

24

25

26

27

28

29

30

31
February 2022

Mon
Tue
Wed
Thu
Fri
Sat
Sun

1

2

3

4

5

6

7

8

9

10

11

12

13

14

15

16

17

18

19

20

21

22

23

24

25

26

27

28
March 2022

Mon
Tue
Wed
Thu
Fri
Sat
Sun

1

2

3

4

5

6

7

8

9

10

11

12

13

14

15

16

17

18

19

20

21

22

23

24

25

26

27

28

29

30

31
April 2022

Mon
Tue
Wed
Thu
Fri
Sat
Sun

1

2

3

4

5

6

7

8

9

10

11

12

13

14

15

16

17

18

19

20

21

22

23

24

25

26

27

28

29

30
May 2022

Mon
Tue
Wed
Thu
Fri
Sat
Sun

1

2

3

4

5

6

7

8

9

10

11

12

13

14

15

16

17

18

19

20

21

22

23

24

25

26

27

28

29

30

31
June 2022

Mon
Tue
Wed
Thu
Fri
Sat
Sun

1

2

3

4

5

6

7

8

9

10

11

12

13

14

15

16

17

18

19

20

21

22

23

24

25

26

27

28

29

30
July 2022

Mon
Tue
Wed
Thu
Fri
Sat
Sun

1

2

3

4

5

6

7

8

9

10

11

12

13

14

15

16

17

18

19

20

21

22

23

24

25

26

27

28

29

30

31
August 2022

Mon
Tue
Wed
Thu
Fri
Sat
Sun

1

2

3

4

5

6

7

8

9

10

11

12

13

14

15

16

17

18

19

20

21

22

23

24

25

26

27

28

29

30

31
September 2022

Mon
Tue
Wed
Thu
Fri
Sat
Sun

1

2

3

4

5

6

7

8

9

10

11

12

13

14

15

16

17

18

19

20

21

22

23

24

25

26

27

28

29

30
October 2022

Mon
Tue
Wed
Thu
Fri
Sat
Sun

1

2

3

4

5

6

7

8

9

10

11

12

13

14

15

16

17

18

19

20

21

22

23

24

25

26

27

28

29

30

31
November 2022

Mon
Tue
Wed
Thu
Fri
Sat
Sun

1

2

3

4

5

6

7

8

9

10

11

12

13

14

15

16

17

18

19

20

21

22

23

24

25

26

27

28

29

30
---