About Chamonix
Chamonix is probably best known as the skiing and alpine capital of the world. It has a reputation for the extreme and this, whilst undoubtedly true, can mask a wide array of sporting and leisure activities, great nightlife and superb scenery that can be enjoyed at whatever pace suits you. Chamonix is the perfect place to come for a weekend break or a week's holiday at any time of year. In fact there is so much to do out here many people decide not to go back!

Chamonix town is at the foot of Mont Blanc and was one of the world's earliest ski resorts, even hosting the first winter Olympic Games in 1924. Chamonix in summer is equally impressive, with mountaineers coming from far and wide to climb Mont Blanc. Chamonix is one of the most popular summer destinations in France due to it's breathtaking scenery and wide range of summer activities such as hiking, mountain biking, trail running, rock climbing, mountaineering and paragliding. Summer has a buzz all of it's own with regular events such as jazz festivals, markets, Bastille Day, and more.

Apres-ski In Chamonix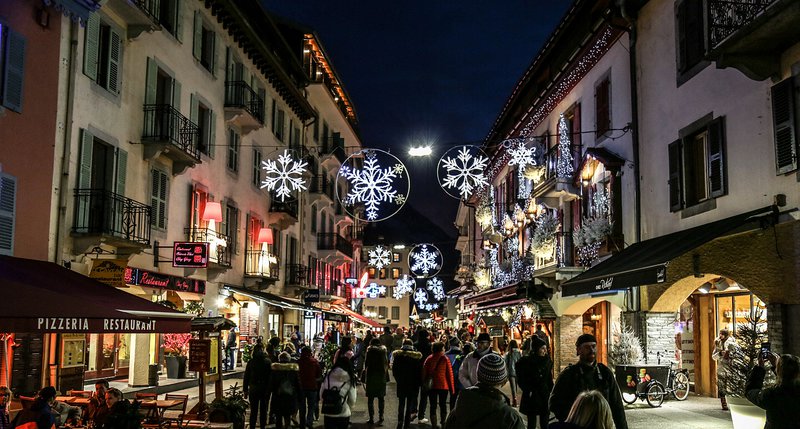 Chamonix's reputation as one of the liveliest apres-ski resorts in the Alps is justly deserved. With numerous bars, and even its own micro-brewery, you will find somewhere to cover every taste. Live music kicks off around 4pm in several venues, notably Chambre Neuf, MBC and South Bar, most days in the winter, but there are plenty of quiet and cosy meeting spots for a vin chaud and a chat.

As the early evenings pass into night-time, you can carry on partying until 4am or later in several nightclubs around town. On several nights of the year, all night licences mean you are likely to still be out at sunrise, especially during the summer months.

Many bars offer great food menus, but there is a huge selection of excellent restaurants as well, up to the Michelin-starred Albert Premier. Whether it be traditional French, Savoyarde, Italian, Chinese, Indian, Japanese, Korean or just modern cuisine, Chamonix has it all.
Chamonix Webcam
This webcam is provided courtesy of Chamonix Tourist Office
More Information On Chamonix
For further information about the resort, please visit the destination guide Chamonet.com .
Properties
We currently have 23 apartments available in this resort.
View apartments
We currently have 17 chalets available in this resort.
View chalets
We currently have 8 season lets available in this resort.
View season lets