Portes du Soleil
Resorts in the Portes du Soleil
Morzine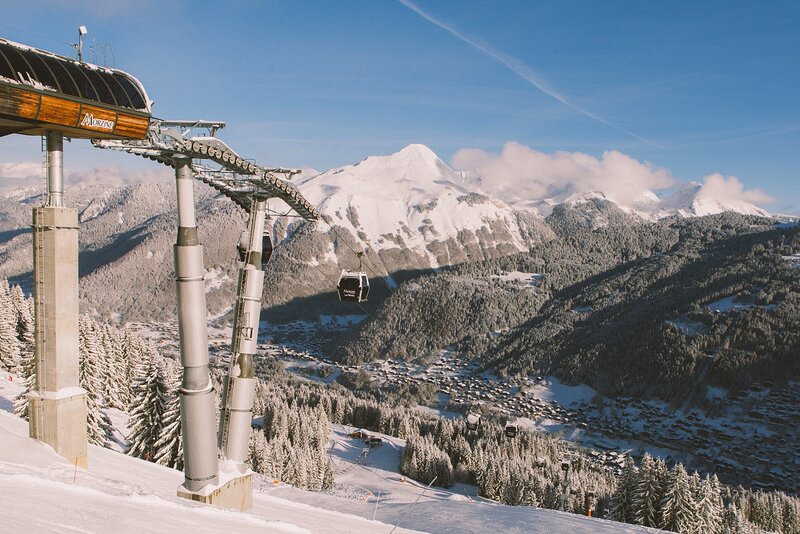 Morzine is regarded as the capital of the Portes du Soleil ski area. It can be described as a traditional market town and manages to keep its charming village authenticity all the while offering a wide range of hotels, bars and restaurants as ski holiday facilities, keeping to the skiing holiday aspect. The resort is popular during all seasons, as it offers a range of both summer and winter activities. As there has been a considerable amount of investment in snowmaking and lift infrastructure, this has enabled queues to decrease, thus making Morzine an even more enjoyable place to go skiing.

As well as skiing, Morzine offers a wide variety of other activities, such as ice skating, snowmobiling, ice climbing and tobogganing.

Towards the end of the season, Morzine hosts the renowned "Rock the Piste Festival" which takes place on the slopes, and in nearby Avoriaz, the Snowboxx festival is also an all-time favourite.


Les Gets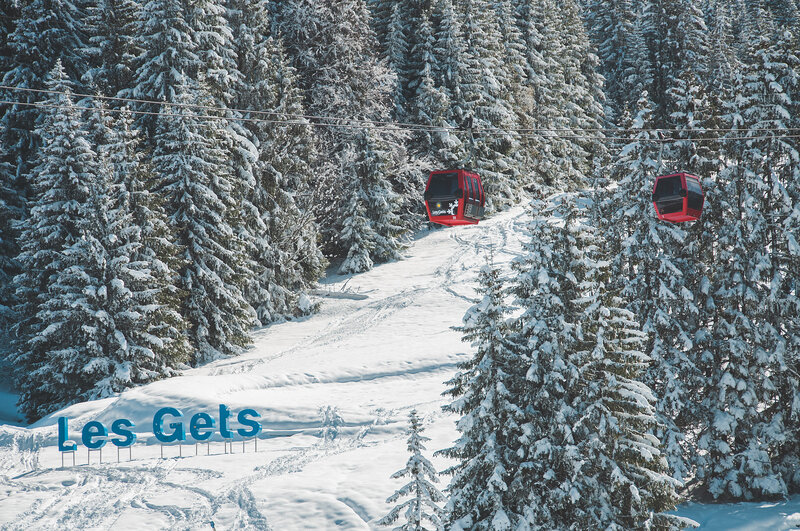 Les Gets, at an altitude of 1172m, is the first resort in the "Portes du Soleil". Although it has expanded greatly in the last 10 years, les Gets retains an authentic charm, with a reasonably small village centre and is thus popular with families. It is a genuine, dual season resort with a strong winter season and a summer season driven by its mountain biking and walking trails.

Access
Les Gets is just over an hour's drive (70km) from Geneva International Airport, much of which is by motorway with the last 20km on more local roads. The resort is well served by private minibus transfers (easyBus, AlpyBus, etc) with fares from €15.99 each way on a shared transfer. With its ease of access, les Gets is a sought-after resort for investment, attracting the short stay as well as weekly stays.

The Property Market
The town centre has seen a remarkable amount of development in the past few years with several new luxury apartment developments, several with spa, wellness and pool facilities. Much of the apartment accommodation is, not surprisingly, focused around the village centre and close to the bases of the various lifts, giving easy access for all you need.

Chalets line both sides of the valley with a number in ski-in, ski-out positions. The south and south-east facing slopes of the Mont Chéry boast many of the larger, exclusive properties with exceptional views and a calm, private situation. The west and north-west facing slopes to the south-east of the centre are more compactly constructed but often with easy access to the Chavannes or Perrières pistes linking directly to Morzine.

In terms of pricing, the higher end often exceeds €10.000 per m², particularly for new build projects up to €11.500 per m² fuelled by the underlying investment value from the strong rental market. Equally, for second homes and longer term rentals, its proximity to Geneva and Lyon is fuelling demand with home working becoming increasingly popular.

Winter season
The Portes du Soleil is one of the largest skiing areas in Europe with 600km of skiing in 2 countries, comprising 34 green, 119 blue, 101 red and 32 black pistes in total. Les Gets itself has over 100km of pisted ski runs, linking easily to the Morzine ski area and on to Avoriaz.

The resort has a children-only ski area as well as slopes aimed at beginner and intermediate level skiers, although there is plenty of off-piste options for the more experienced skiers. Overall, it's a favourite for families with Morzine attracting the party scene and Avoriaz the more experienced skiers.

Summer season
Les Gets is a genuine dual-season resort as it offers a wide variety of activities during the summer months driven by the mountain biking for which it is famous. Since its inception in the early 1990s, Les Gets has hosted some notable events including the World Championships and, with the rest of the Portes du Soleil, has 600 kms of bike tracks, both downhill and cross-country, accessible with one lift pass. Many road cyclists also come here to make the most of the multiple climbs, most notably the Col de Joux Plane from Morzine to Samoëns but also Col de la Ramaz and the Col de Joux Verte, all of which are Tour de France regulars.

Otherwise, there are numerous possibilities including hiking, rock-climbing, paragliding and white-water rafting as well as an 18 hole golf course. There is also the possibility to go swimming in the Lac des Ecoles on the Chavannes slope with its water slides, play area and volleyball pitch.

Châtel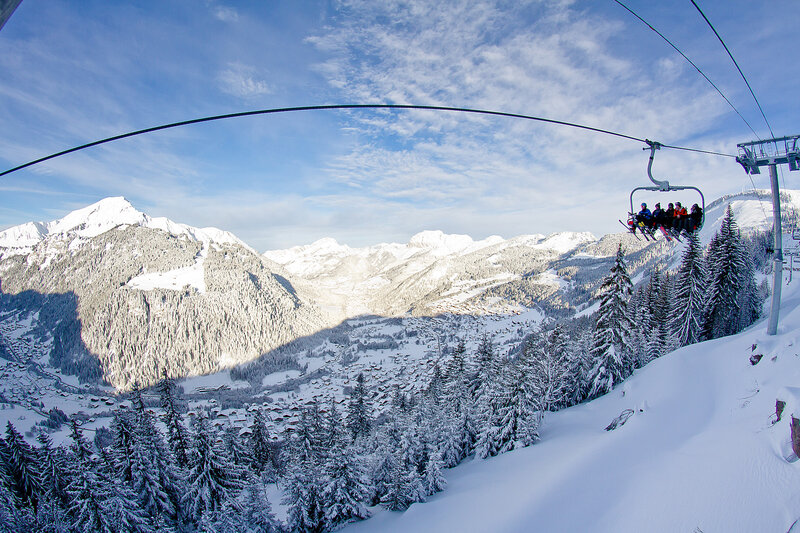 Châtel, at an altitude of 1200m, is a charming village resort and with a resident population of 1250 is the 3rd biggest village in the "Portes du Soleil". Sitting at the top of the picturesque Abondance Valley, it has retained much of its traditional 'Savoyard' atmosphere and is as stunning in winter as it is in summer. The resort has a nice mixture of old and new chalets, barns and farm buildings on the hillsides and in the valley, contributing to its authentic feel.
​
The resort has plenty to offer all year-round and is very popular amongst visitors from all over the world.

Access
Châtel is a 90 minute drive (130km) from Geneva International Airport on the Swiss side, slightly longer on the French side (1hr 40, 96km) with several minibus transfers available from only 28.75 € per person. The closest train station is in Thonon les Bains with a direct service from Geneva (1 change from the airport), from where you can take a bus straight to the resort. On the Swiss side, there is a train service to Aigle, with a taxi ride on from there.

The Property Market
The Châtel property market is an active one, with interest from both French and Swiss buyers, each having similarly easy access to the resort. As a dual season resort, it attracts both investors and traditional home buyers and, like its larger neighbours, has seen a flurry of activity over the past few years with several new build developments. Prices are roughly 20% lower than Morzine or les Gets, offering good value.

Winter Season
The Portes du Soleil is one of the largest skiing areas in Europe with 600km of skiing in 2 countries, comprising 34 green, 119 blue, 101 red and 32 black pistes in total. Châtel itself has 41 ski lifts and 45 pistes, largely blues and reds but with a good numbers of green and black runs too, as well as 1 snowpark. Investment over the last few years has vastly improved the links to the rest of the Portes du Soleil, including the Super Châtel gondola that leads to the ski school meeting place.

Several chair lifts will take you up to the gentle ski area with three groomed pistes cutting back and forth across the Swiss border. There are also two brand new chairlifts that directly link Super Châtel with the main Portes du Soleil area; a huge improvement from previously having to take the bus. This gives you the opportunity to explore more challenging terrain if you want to, including some off-piste options (snow conditions permitting).

The ski area offers pistes for every level from the blue runs in Super Châtel, to the long reds high above Avoriaz and of course the impressive Swiss wall black run down into les Crosets, which we definitely recommend to experienced skiers. If you are after something a bit more challenging than a blue or a red, you can also head across to the Lindarets valley which has some great powder runs through the trees. Another option is to head up to the Swiss border via Avoriaz to the Pointe des Mossettes (2277m) where you can take in breath-taking views of the Dents du Midi.

Summer Season
Châtel is very much a year-round resort, which in turn means that homeowners get more out of their properties here. A few chairlifts stay open during the summer, and there are also Portes du Soleil multi passes available for discounted prices on many activities. The resort offers summer activities such as hiking, roller blading, go-karting, tennis, mini golf, paddle boarding, zip lining, Accrobranche, summer bobsleds, a cinema and a spa and wellness centre.