Résidence le Paradis 2
Chamonix, France
Summary
Property:
Apartment
Sleeps:
4 / 6
Bedrooms:
2
Bathrooms:
2
Location:
Chamonix
Chamonix centre
Rating:
Price Range:
€525 - €1600 / week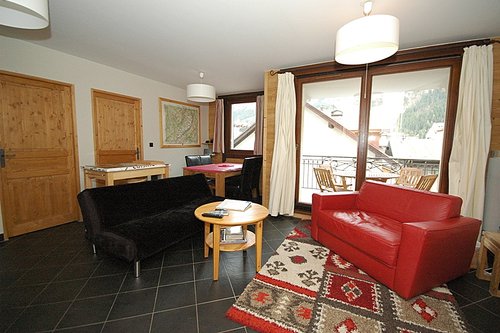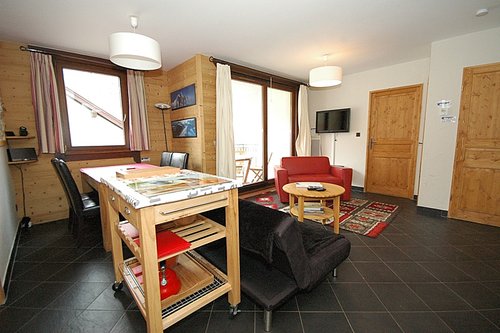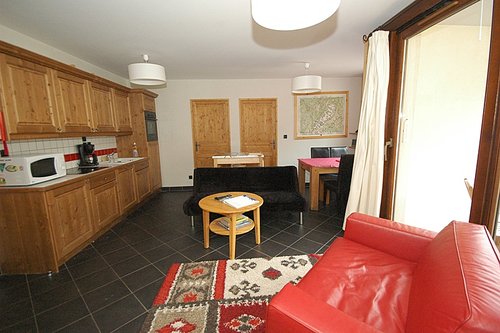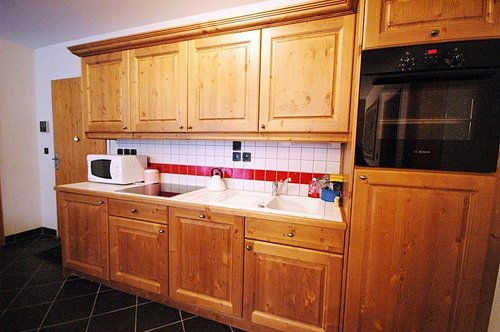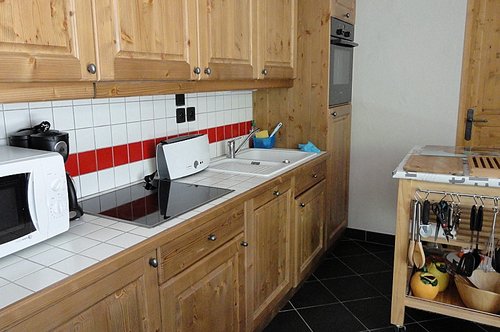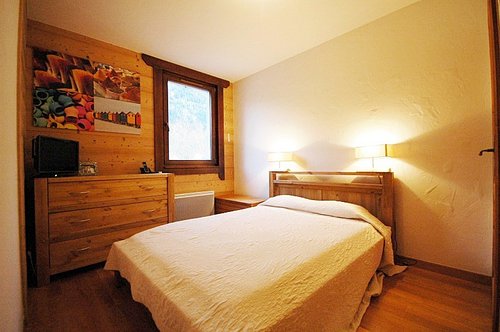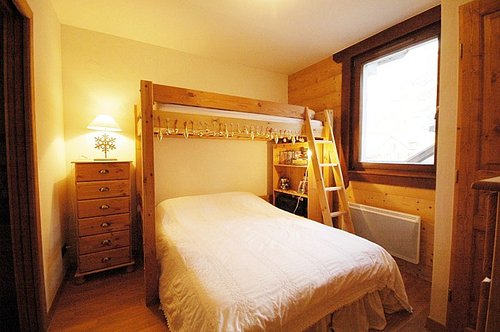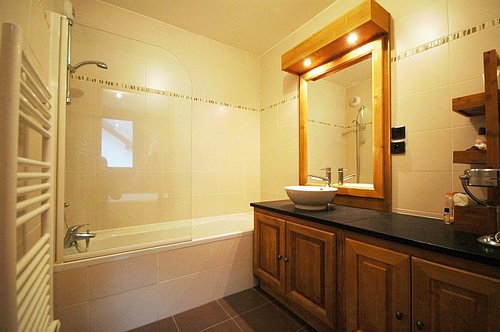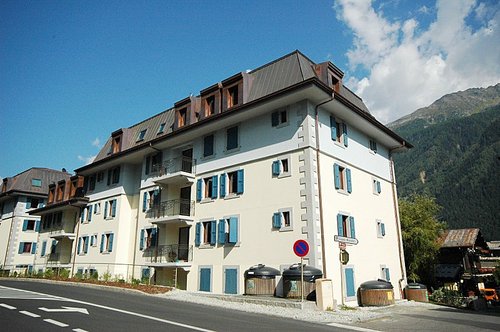 This recently built, second floor apartment has an open-plan living area. The kitchen is fitted and includes a washing machine. There is comfortable seating (the sofa opens out to become a single bed), a dining table for 6 and WIFI. At opposite ends of this living area are the 2 bedrooms. The first is a triple room with a double bed with a single bed above and has an ensuite bathroom. The second is a double bedroom with an ensuite shower room. The WC is separate.

Large, glass sliding doors in the living area open onto the south-west facing balcony which has outdoor dining furniture. From here, there are great views of mountain peaks including Mont-Blanc.

At basement level of the building, this apartment has a private ski cellar and access to underground secure parking.

Overall, Paradis 2 is ideal for groups of 4-6 looking for modern and comfortable living with proximity to the many facilities that Chamonix has to offer.
Features

Central location
Fantastic views
NB- Parking place is 2.5m wide
Balcony
Covered Parking
Mont Blanc view
Short stays possible
Facilities

French TV channels
Wifi internet access
Flat screen TV
DVD player
iPod docking station
Microwave
Oven / Grill
Hob
Fridge
Dishwasher
Washing machine/dryer
Access by lift
Outside furniture
The apartment is in the recently completed Résidence le Paradis, which is situated right in the centre of Chamonix on Allée Recteur Payot.

Tucked away off the main street, it's location means that the numerous shops, bars and restaurants of the centre are a very short walk away. Rue Paccard, the main shopping street in Chamonix, is 2 minute's away on foot. The nearest supermarket is SuperU which is 150 metres from the apartment.

For access to the slopes, it is just a couple of hundred metres from the Savoy nursery slopes, which in turn give access to the Brévent ski area at Plan Praz. The nearest bus stop is 200m away.


Summer 2016 season
- all prices quoted in
EUROS
| 2016 | M | T | W | T | F | S | S | M | T | W | T | F | S | S | M | T | W | T | F | S | S | M | T | W | T | F | S | S | M | T | W | T | F | S | S | M | T |
| --- | --- | --- | --- | --- | --- | --- | --- | --- | --- | --- | --- | --- | --- | --- | --- | --- | --- | --- | --- | --- | --- | --- | --- | --- | --- | --- | --- | --- | --- | --- | --- | --- | --- | --- | --- | --- | --- |
| May 16 | | | | | | | | | | | | | 7 | 8 | 9 | 10 | 11 | 12 | 13 | 14 | 15 | 16 | 17 | 18 | 19 | 20 | 21 | 22 | 23 | 24 | 25 | 26 | 27 | 28 | 29 | 30 | 31 |
| Jun 16 | | | 1 | 2 | 3 | 4 | 5 | 6 | 7 | 8 | 9 | 10 | 11 | 12 | 13 | 14 | 15 | 16 | 17 | 18 | 19 | 20 | 21 | 22 | 23 | 24 | 25 | 26 | 27 | 28 | 29 | 30 | | | | | |
| Jul 16 | | | | | 1 | 2 | 3 | 4 | 5 | 6 | 7 | 8 | X | X | X | X | X | X | X | X | X | X | X | X | X | X | X | X | X | X | X | X | X | 30 | 31 | | |
| Aug 16 | 1 | 2 | 3 | 4 | 5 | X | X | X | X | X | X | X | X | X | X | X | X | X | X | X | X | X | X | X | X | X | X | X | X | X | X | | | | | | |
| Sep 16 | | | | X | X | 3 | 4 | 5 | 6 | 7 | 8 | 9 | 10 | 11 | 12 | 13 | X | X | X | X | X | X | X | 21 | 22 | 23 | 24 | 25 | 26 | 27 | 28 | 29 | 30 | | | | |
| Oct 16 | | | | | | 1 | 2 | 3 | 4 | 5 | 6 | 7 | 8 | 9 | 10 | 11 | 12 | 13 | 14 | 15 | 16 | 17 | 18 | 19 | 20 | 21 | 22 | 23 | 24 | 25 | 26 | 27 | 28 | 29 | 30 | 31 | |
| Nov 16 | | 1 | 2 | 3 | 4 | 5 | 6 | 7 | 8 | 9 | 10 | 11 | 12 | 13 | 14 | 15 | 16 | 17 | 18 | 19 | 20 | 21 | 22 | 23 | 24 | 25 | | | | | | | | | | | |
| | | | | | | | |
| --- | --- | --- | --- | --- | --- | --- | --- |
| 800 / week | | 675 / week | | 575 / week | | 525 / week | |
| 160 / night | | 135 / night | | 115 / night | | 105 / night | |
Winter 2016/2017 season
- all prices quoted in
EUROS
2016
2017
M
T
W
T
F
S
S
M
T
W
T
F
S
S
M
T
W
T
F
S
S
M
T
W
T
F
S
S
M
T
W
T
F
S
S
M
T
Nov 16
26
27
28
29
30
Dec 16
1
2
3
4
5
6
7
8
9
10
11
12
13
14
15
16
17
18
19
20
21
22
23
24
25
26
27
28
29
30
31
Jan 17
1
2
3
4
5
6
7
8
9
10
11
12
13
14
15
16
17
18
19
20
21
22
23
24
25
26
27
28
29
30
31
Feb 17
1
2
3
4
5
6
7
8
9
10
11
12
13
14
15
16
17
18
19
20
21
22
23
24
25
X
X
X
Mar 17
X
X
X
X
X
X
X
X
X
X
X
12
13
14
15
16
17
18
19
20
21
22
23
24
25
26
27
28
29
30
31
Apr 17
1
2
3
4
5
6
7
8
9
10
11
12
13
14
15
16
17
18
19
20
21
22
23
24
25
26
27
28
29
30
May 17
1
2
3
4
5
| | | | | | | | | | | | |
| --- | --- | --- | --- | --- | --- | --- | --- | --- | --- | --- | --- |
| 1600 / week | | 1400 / week | | 1150 / week | | 1000 / week | | 950 / week | | 800 / week | |
| | | | | | | | | | | | |
Summer 2017 season
- all prices quoted in
EUROS
| 2017 | M | T | W | T | F | S | S | M | T | W | T | F | S | S | M | T | W | T | F | S | S | M | T | W | T | F | S | S | M | T | W | T | F | S | S | M | T |
| --- | --- | --- | --- | --- | --- | --- | --- | --- | --- | --- | --- | --- | --- | --- | --- | --- | --- | --- | --- | --- | --- | --- | --- | --- | --- | --- | --- | --- | --- | --- | --- | --- | --- | --- | --- | --- | --- |
| May 17 | | | | | | 6 | 7 | 8 | 9 | 10 | 11 | 12 | 13 | 14 | 15 | 16 | 17 | 18 | 19 | 20 | 21 | 22 | 23 | 24 | 25 | 26 | 27 | 28 | 29 | 30 | 31 | | | | | | |
| Jun 17 | | | | 1 | 2 | 3 | 4 | 5 | 6 | 7 | 8 | 9 | 10 | 11 | 12 | 13 | 14 | 15 | 16 | 17 | 18 | 19 | 20 | 21 | 22 | 23 | 24 | 25 | 26 | 27 | 28 | 29 | 30 | | | | |
| Jul 17 | | | | | | 1 | 2 | 3 | 4 | 5 | 6 | 7 | 8 | 9 | 10 | 11 | 12 | 13 | 14 | 15 | 16 | 17 | 18 | 19 | 20 | 21 | 22 | 23 | 24 | 25 | 26 | 27 | 28 | 29 | 30 | 31 | |
| Aug 17 | | 1 | 2 | 3 | 4 | 5 | 6 | 7 | 8 | 9 | 10 | 11 | 12 | 13 | 14 | 15 | 16 | 17 | 18 | 19 | 20 | 21 | 22 | 23 | 24 | 25 | 26 | 27 | 28 | 29 | 30 | 31 | | | | | |
| Sep 17 | | | | | 1 | 2 | 3 | 4 | 5 | 6 | 7 | 8 | 9 | 10 | 11 | 12 | 13 | 14 | 15 | 16 | 17 | 18 | 19 | 20 | 21 | 22 | 23 | 24 | 25 | 26 | 27 | 28 | 29 | 30 | | | |
| Oct 17 | | | | | | | 1 | 2 | 3 | 4 | 5 | 6 | 7 | 8 | 9 | 10 | 11 | 12 | 13 | 14 | 15 | 16 | 17 | 18 | 19 | 20 | 21 | 22 | 23 | 24 | 25 | 26 | 27 | 28 | 29 | 30 | 31 |
| Nov 17 | | | 1 | 2 | 3 | 4 | 5 | 6 | 7 | 8 | 9 | 10 | 11 | 12 | 13 | 14 | 15 | 16 | 17 | 18 | 19 | 20 | 21 | 22 | 23 | 24 | | | | | | | | | | | |
| | | | | | | | |
| --- | --- | --- | --- | --- | --- | --- | --- |
| 800 / week | | 675 / week | | 575 / week | | 525 / week | |
| 160 / night | | 135 / night | | 115 / night | | 105 / night | |
What's included
Exclusive use of the property and its facilities
All linen including towels (2 per person)
End of stay cleaning
Local Tourist Taxes

What's not included
Travel to and from Chamonix
Airport transfers can be arranged

NB
Prices are for self-catered accommodation
Summer season bookings are from Saturday to Saturday, Winter season bookings are from Sunday to Sunday. There may be flexibility in low season.
Dates shown indicate date of arrival (after 4pm), departure before 10am
Arrivals after 7.30pm incur a €20 surcharge, after 11.30pm €50
Fee of 0.8% applicable to all card payments
Summer 2016 season
- all prices quoted in
EUROS
| 2016 | M | T | W | T | F | S | S | M | T | W | T | F | S | S | M | T | W | T | F | S | S | M | T | W | T | F | S | S | M | T | W | T | F | S | S | M | T |
| --- | --- | --- | --- | --- | --- | --- | --- | --- | --- | --- | --- | --- | --- | --- | --- | --- | --- | --- | --- | --- | --- | --- | --- | --- | --- | --- | --- | --- | --- | --- | --- | --- | --- | --- | --- | --- | --- |
| May 16 | | | | | | | | | | | | | 7 | 8 | 9 | 10 | 11 | 12 | 13 | 14 | 15 | 16 | 17 | 18 | 19 | 20 | 21 | 22 | 23 | 24 | 25 | 26 | 27 | 28 | 29 | 30 | 31 |
| Jun 16 | | | 1 | 2 | 3 | 4 | 5 | 6 | 7 | 8 | 9 | 10 | 11 | 12 | 13 | 14 | 15 | 16 | 17 | 18 | 19 | 20 | 21 | 22 | 23 | 24 | 25 | 26 | 27 | 28 | 29 | 30 | | | | | |
| Jul 16 | | | | | 1 | 2 | 3 | 4 | 5 | 6 | 7 | 8 | X | X | X | X | X | X | X | X | X | X | X | X | X | X | X | X | X | X | X | X | X | 30 | 31 | | |
| Aug 16 | 1 | 2 | 3 | 4 | 5 | X | X | X | X | X | X | X | X | X | X | X | X | X | X | X | X | X | X | X | X | X | X | X | X | X | X | | | | | | |
| Sep 16 | | | | X | X | 3 | 4 | 5 | 6 | 7 | 8 | 9 | 10 | 11 | 12 | 13 | X | X | X | X | X | X | X | 21 | 22 | 23 | 24 | 25 | 26 | 27 | 28 | 29 | 30 | | | | |
| Oct 16 | | | | | | 1 | 2 | 3 | 4 | 5 | 6 | 7 | 8 | 9 | 10 | 11 | 12 | 13 | 14 | 15 | 16 | 17 | 18 | 19 | 20 | 21 | 22 | 23 | 24 | 25 | 26 | 27 | 28 | 29 | 30 | 31 | |
| Nov 16 | | 1 | 2 | 3 | 4 | 5 | 6 | 7 | 8 | 9 | 10 | 11 | 12 | 13 | 14 | 15 | 16 | 17 | 18 | 19 | 20 | 21 | 22 | 23 | 24 | 25 | | | | | | | | | | | |
| | | | | | | | |
| --- | --- | --- | --- | --- | --- | --- | --- |
| 800 / week | | 675 / week | | 575 / week | | 525 / week | |
| 160 / night | | 135 / night | | 115 / night | | 105 / night | |
Winter 2016/2017 season
- all prices quoted in
EUROS
2016
2017
M
T
W
T
F
S
S
M
T
W
T
F
S
S
M
T
W
T
F
S
S
M
T
W
T
F
S
S
M
T
W
T
F
S
S
M
T
Nov 16
26
27
28
29
30
Dec 16
1
2
3
4
5
6
7
8
9
10
11
12
13
14
15
16
17
18
19
20
21
22
23
24
25
26
27
28
29
30
31
Jan 17
1
2
3
4
5
6
7
8
9
10
11
12
13
14
15
16
17
18
19
20
21
22
23
24
25
26
27
28
29
30
31
Feb 17
1
2
3
4
5
6
7
8
9
10
11
12
13
14
15
16
17
18
19
20
21
22
23
24
25
X
X
X
Mar 17
X
X
X
X
X
X
X
X
X
X
X
12
13
14
15
16
17
18
19
20
21
22
23
24
25
26
27
28
29
30
31
Apr 17
1
2
3
4
5
6
7
8
9
10
11
12
13
14
15
16
17
18
19
20
21
22
23
24
25
26
27
28
29
30
May 17
1
2
3
4
5
| | | | | | | | | | | | |
| --- | --- | --- | --- | --- | --- | --- | --- | --- | --- | --- | --- |
| 1600 / week | | 1400 / week | | 1150 / week | | 1000 / week | | 950 / week | | 800 / week | |
| | | | | | | | | | | | |
Summer 2017 season
- all prices quoted in
EUROS
| 2017 | M | T | W | T | F | S | S | M | T | W | T | F | S | S | M | T | W | T | F | S | S | M | T | W | T | F | S | S | M | T | W | T | F | S | S | M | T |
| --- | --- | --- | --- | --- | --- | --- | --- | --- | --- | --- | --- | --- | --- | --- | --- | --- | --- | --- | --- | --- | --- | --- | --- | --- | --- | --- | --- | --- | --- | --- | --- | --- | --- | --- | --- | --- | --- |
| May 17 | | | | | | 6 | 7 | 8 | 9 | 10 | 11 | 12 | 13 | 14 | 15 | 16 | 17 | 18 | 19 | 20 | 21 | 22 | 23 | 24 | 25 | 26 | 27 | 28 | 29 | 30 | 31 | | | | | | |
| Jun 17 | | | | 1 | 2 | 3 | 4 | 5 | 6 | 7 | 8 | 9 | 10 | 11 | 12 | 13 | 14 | 15 | 16 | 17 | 18 | 19 | 20 | 21 | 22 | 23 | 24 | 25 | 26 | 27 | 28 | 29 | 30 | | | | |
| Jul 17 | | | | | | 1 | 2 | 3 | 4 | 5 | 6 | 7 | 8 | 9 | 10 | 11 | 12 | 13 | 14 | 15 | 16 | 17 | 18 | 19 | 20 | 21 | 22 | 23 | 24 | 25 | 26 | 27 | 28 | 29 | 30 | 31 | |
| Aug 17 | | 1 | 2 | 3 | 4 | 5 | 6 | 7 | 8 | 9 | 10 | 11 | 12 | 13 | 14 | 15 | 16 | 17 | 18 | 19 | 20 | 21 | 22 | 23 | 24 | 25 | 26 | 27 | 28 | 29 | 30 | 31 | | | | | |
| Sep 17 | | | | | 1 | 2 | 3 | 4 | 5 | 6 | 7 | 8 | 9 | 10 | 11 | 12 | 13 | 14 | 15 | 16 | 17 | 18 | 19 | 20 | 21 | 22 | 23 | 24 | 25 | 26 | 27 | 28 | 29 | 30 | | | |
| Oct 17 | | | | | | | 1 | 2 | 3 | 4 | 5 | 6 | 7 | 8 | 9 | 10 | 11 | 12 | 13 | 14 | 15 | 16 | 17 | 18 | 19 | 20 | 21 | 22 | 23 | 24 | 25 | 26 | 27 | 28 | 29 | 30 | 31 |
| Nov 17 | | | 1 | 2 | 3 | 4 | 5 | 6 | 7 | 8 | 9 | 10 | 11 | 12 | 13 | 14 | 15 | 16 | 17 | 18 | 19 | 20 | 21 | 22 | 23 | 24 | | | | | | | | | | | |
| | | | | | | | |
| --- | --- | --- | --- | --- | --- | --- | --- |
| 800 / week | | 675 / week | | 575 / week | | 525 / week | |
| 160 / night | | 135 / night | | 115 / night | | 105 / night | |
What's included
Exclusive use of the property and its facilities
All linen including towels (2 per person)
End of stay cleaning
Local Tourist Taxes

What's not included
Travel to and from Chamonix
Airport transfers can be arranged

NB
Prices are for self-catered accommodation
Summer season bookings are from Saturday to Saturday, Winter season bookings are from Sunday to Sunday. There may be flexibility in low season.
Dates shown indicate date of arrival (after 4pm), departure before 10am
Arrivals after 7.30pm incur a €20 surcharge, after 11.30pm €50
Fee of 0.8% applicable to all card payments