Summary
Type: Chalet
Sleeps: 8
Bedrooms: 4
Bathrooms: 3
WCs: 3
Surface Area: 180m²
Facilities
Wellness & Relaxation
Hot tub
Log fireplace
Cinema room
Media / Audio Visual
Free WiFi
UK TV
French TV
DVD player
Streaming services e.g. Netflix
Music speaker
Outdoor & Parking
Balcony
Garden
Terrace
Outdoor furniture
Covered parking
Exterior parking
Kitchen & Laundry
Full-size oven
Microwave
Fridge
Freezer
Dishwasher
Washing machine
Tumble dryer
Coffee machine (Not Nespresso)
Iron & Board
Fondue set
Raclette set
Equipment Storage
Ski storage
Bike storage
Boot dryers
Other
No pets permitted
Mont Blanc view
Car - Recommended
Hair dryers
Tourist Board Rated Property
Current Tourist Tax rates apply
Make an enquiry
Layout
Video Tour
Chalet Sanaz is a particularly spacious four bedroom chalet which offers traditional alpine charm with modern day comforts. Situated in a peaceful residential area, the chalet is a 20 minute walk from the centre of town and a 5 minute drive from both the Brevent and Flegere lift stations. With an outdoor hot-tub and professional kitchen, this chalet makes a luxury mountain retreat.
Key Features
Sunken outdoor hot-tub on the deck where you can relax and take in the Mont Blanc views
Garden and terrace with outdoor dining furniture and BBQ so you can enjoy your meals alfresco in the summer
Separate cinema room and entertainment facilities including HD & 3D projector, UK & -French TV, Blu-Ray player and integrated Sonos sound system throughout the chalet
Open log fireplace for cosy, atmospheric winter evenings
Ski and bike space in the garage where you can store all your equipment securely
Exterior parking for up to three cars
Bedrooms
The chalet sleeps up to 8 people in 4 bedrooms. There is a maximum of 5 separate beds available, configured as follows:
Bedroom 1 : Double bed (first floor) with ensuite bathroom with jacuzzi bath, separate shower and WC, and shared balcony
Bedroom 2 : Double bed (ground floor) with ensuite shower room and access to separate WC
Bedroom 3 : Two single beds or double bed (first floor) with access to shared bathroom with separate WC, and shared balcony
Bedroom 4 : Double bed (first floor) with access to shared bathroom with separate WC
Our Opinion
Chalet Sanaz offers the best of both worlds, a tranquil, calm location but not far from the town centre. The stylish living area and old stone fireplace create a homely, alpine atmosphere perfect for any mountain stay. This chalet also has good size bedrooms with plenty of storage. Boasting views of the Mont Blanc range from the hot tub, Chalet Sanaz offers the perfect place to relax and unwind.
Location
Supermarket:
2 km - Carrefour
Bus stop:
450 metres - La Frasse
Attractions & Ski Areas:
Aiguille du Midi cable car: 2 km
Montenvers / Mer de Glace Train: 1 km
Le Brevent: 2 km
La Flegere: 2.2 km / 10 minutes by bus
Grands Montets: 7.5 km / 20 minutes by bus
Le Tour & Vallorcine: 11 km / 25 minutes by bus
Les Houches: 11 km / 20 minutes by bus
Savoy Nursery Slopes: 2 km
Planards Nursery Slopes: 650 metres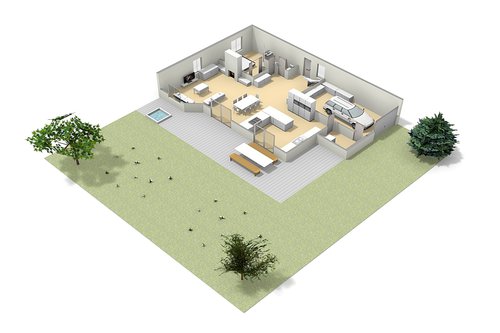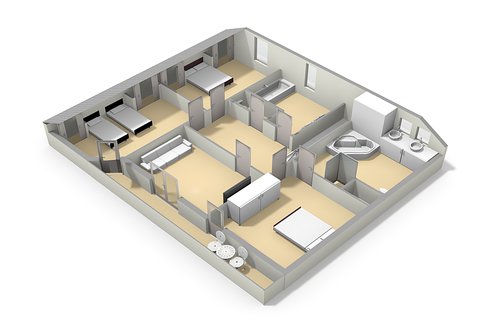 To view the 2D floorplan, please click on the link below. You can also view the floorplan in Interactive 3D by then clicking on "3D" at the top right of the webpage: Interactive 3D floorplan
What's Included
Exclusive use of the property and its facilities
Welcome on arrival and in-resort presence for assistance
Bed linen as per selected beds
2 bath towels and a bathrobe per person.
6 hand towels, 4 bath mats, 2 tea towels
Cleaning products, bin bags, washing up liquid & sponge, dishwasher tablets, Salt & Pepper, 6 toilet rolls, 6 hand soaps
3 Hair dryers
WiFi
Parking
Logs for wood burner/fireplace
Hot-tub maintenance
Snow clearance
End of stay cleaning
Carte d'hote (bus & train pass) per person
For bookings of 12 nights or more a mid-stay clean and linen change are included in the price. If you do not wish to be disturbed during your stay we can provide 2 sets of linen on arrival
Additional services we can assist you with prior to arrival:
Airport transfers & in-resort taxi/shuttle service
Lift passes, delivered to the property on arrival
Equipment hire including skis, snowboards and mountain bikes
Ski and snowboard lessons
Additional cleaning and linen services
Cot & high-chair rentals
Delivery pre-prepared meals
Catering with a private chef
Childcare
Spas and pampering
Mountain guides
Winter activities: cross country skiing, helicopter tours, heli skiing, husky rides, ice climbing, paragliding, mountain safety courses etc
Summer activities: canoeing, canyoning, hiking, golf, horse riding, Mont Blanc, mountain biking, mountaineering, rock climbing, paragliding, trail running, white water rafting etc
"A fantastic chalet with great facilities. Very nice rooms, high quality materials, fully equipped kitchen, lots of storage space, absolutely clean. In 15 minutes you are on foot in the center of Chamonix and can commute so wonderfully between peace and "city life" Overall a great stay. We can absolutely recommend the chalet and will also be happy to come back."
-
T. Frank, Aug
2023
"Extremely cozy and well-stocked chalet in a very quiet place from which you can reach the center of Chamonix in 20 minutes on foot." -
E. Bertoli, Jul
2023
"Chalet is in a great location and easy walking distance to Chamonix. Everything you need is available in the chalet.
All rooms are nicely furnished and the living area is comfortable." -
T. Leeger, Mar
2023
"Loved it all - the fireplace, location, views, hot tub, bedrooms, kitchen, etc. We had an excellent stay
.
" -
E. Wulf, Dec
2022
"Such a beautiful chalet! The chalet is in a lovely spot with plenty of parking and very warm, cozy yet spacious inside. Would love to stay again!" -
E. Pike, Nov
2022
"Fantastic well equipped Chalet in a lovely quiet part of Chamonix. Absolutely glorious views of the sun shining on Mont Blanc in the mornings and evenings.
Excellent all round." -
A. Poole, Jul 2022
"A magnificent chalet with very nice equipment and everything you could want for a good stay (coffee machine integrated in the kitchen, sound equipment, etc.) The location is also incredible with the view of Mont Blanc la forest 5 minutes away and the center hardly further. We had a dream vacation. The Mountain Base agency was very responsive to all of our requests."
- L. Evain, Aug 2021
"A very pleasant stay in a very well located, very comfortable and perfectly equipped chalet. Large bedrooms. To do again!"
- A. Ducros, Aug 2020
"We visited Chalet Sanaz in June and loved its close location to Chamonix and mountain walks. Beautiful meadow by house with deer visiting ever night. Quiet location but with plenty of bars and restaurants a short walk away. Plenty to do walks, golf, cable cars and tourist train up to Mer de Glace. Also close to supermarkets etc. Would certainly recommend. Chalet well equipped and beds super comfortable."
- C. Deacon, May 2019
"Very comfortable and well equipped and fantastic location. Very high quality. Couldn't fault it at all, highly recommended."
- K. Frankland, Jul 2018
"The chalet is in a great location and is very spacious"
- J. Booth, Jul 2018
Price & Availability Overview
To calculate the price of your stay use the 'Check-in - Check-out' date picker above
A discount of 15% will be applied to 5 nights, 25% to 6 nights and 30% to 7+ nights. 5 nights minimum for February holidays, UTMB, Christmas OR New Year. 12 nights minimum Christmas & New Year.
Short stays priced at a minimum of 4 nights.
September 2023

Mon
Tue
Wed
Thu
Fri
Sat
Sun

X

X

3

X

X

X

X

X

X

X

11

12

13

14

X

X

X

X

X

X

X

22

23

24

25

26

27

X

X

X
October 2023

Mon
Tue
Wed
Thu
Fri
Sat
Sun

X

X

X

X

5

6

7

8

9

10

11

12

13

14

15

16

17

18

19

20

21

22

23

24

25

26

27

28

29

30

31
November 2023

Mon
Tue
Wed
Thu
Fri
Sat
Sun

1

2

3

4

5

6

7

8

9

10

11

12

13

14

15

16

17

18

19

20

21

22

23

24

25

26

27

28

29

30
December 2023

Mon
Tue
Wed
Thu
Fri
Sat
Sun

1

2

3

4

5

6

7

8

9

10

11

12

13

14

15

16

17

18

19

20

21

22

23

24

25

X

X

X

X

X

X
January 2024

Mon
Tue
Wed
Thu
Fri
Sat
Sun

X

X

X

4

X

X

X

X

X

X

11

12

13

X

X

X

X

X

X

X

21

22

X

X

X

X

X

X

X

30

31
February 2024

Mon
Tue
Wed
Thu
Fri
Sat
Sun

1

X

X

X

X

X

X

X

X

X

11

12

13

14

X

X

X

X

X

X

X

X

X

X

X

X

X

X

X
March 2024

Mon
Tue
Wed
Thu
Fri
Sat
Sun

X

X

X

X

X

X

X

X

9

10

11

12

X

X

X

X

X

X

X

20

21

22

23

24

25

26

27

28

29

30

X
April 2024

Mon
Tue
Wed
Thu
Fri
Sat
Sun

X

X

X

X

X

X

7

8

9

10

11

12

13

14

15

16

17

18

19

20

21

22

23

24

25

26

27

28

29

30
May 2024

Mon
Tue
Wed
Thu
Fri
Sat
Sun

1

2

3

4

5

6

7

8

9

10

11

12

13

14

15

16

17

18

19

20

21

22

23

24

25

26

27

28

29

30

31
June 2024

Mon
Tue
Wed
Thu
Fri
Sat
Sun

1

2

3

4

5

6

7

8

9

10

11

12

13

14

15

16

17

18

19

20

21

22

23

24

25

26

27

28

X

X
July 2024

Mon
Tue
Wed
Thu
Fri
Sat
Sun

X

X

X

X

X

X

X

X

X

X

X

X

X

X

X

X

17

18

19

20

21

22

23

24

25

26

27

28

29

30

31
August 2024

Mon
Tue
Wed
Thu
Fri
Sat
Sun

1

2

3

4

5

6

X

X

X

X

X

12

13

14

15

16

17

18

19

20

21

22

X

X

X

X

X

X

X

X

X
September 2024

Mon
Tue
Wed
Thu
Fri
Sat
Sun

X

2

3

4

5

6

X

X

X

X

X

X

X

X

X

16

17

18

19

20

21

22

23

24

25

26

27

28

29

30
October 2024

Mon
Tue
Wed
Thu
Fri
Sat
Sun

1

2

3

4

5

6

7

8

9

10

11

12

13

14

15

16

17

18

19

20

21

22

23

24

25

26

27

28

29

30

31
November 2024

Mon
Tue
Wed
Thu
Fri
Sat
Sun

1

2

3

4

5

6

7

8

9

10

11

12

13

14

15

16

17

18

19

20

21

22

23

24

25

26

27

28

29

30
Summer 2023
€515.00 / night
€565.00 / night
€635.00 / night
€690.00 / night
€760.00 / night
€795.00 / night
X Booked
Winter 2023/2024
€730.00 / night
€840.00 / night
€970.00 / night
€1240.00 / night
€1455.00 / night
X Booked
Summer 2024
€635.00 / night
€690.00 / night
€760.00 / night
€795.00 / night
X Booked
---